This post was updated on September 8th, 2022
By Kym Campbell, BSc. | Updated September 8th, 2022
If you're living with PCOS right now, then changing how you eat can reduce or eliminate your symptoms.
This is because the underlying mechanisms that cause PCOS are exacerbated by a modern Western diet. A good PCOS diet understands these mechanisms, with well-thought-out recipes providing a solution.
Like breakfast and dinner, all great PCOS lunch recipes have three things in common:
PCOS-friendly lunches lower inflammation. This means avoiding gluten, dairy, and industrial seed oils. Sugar intake also needs to be kept as low as reasonably practical.
They improve insulin sensitivity. This is achieved by using only low GI, whole food sources of carbohydrates. Fat and protein consumption is also prioritized.
Good PCOS lunch recipes improve gut health. Fiber-rich, non-starchy vegetables are central to this undertaking.
These principles have delivered life-changing results for women that take part in my free 30-Day PCOS Diet Challenge. This free 3-Day Meal Plan is also a great place to start.
My number one strategy for minimizing PCOS lunch meal prep is to repurpose dinner leftovers. If you're looking for more variety though, there are endless ways to make the best lunch for PCOS. Here are some of my favorite recipes to get you started.
For more information on PCOS-friendly lunches, see the FAQ section at the bottom of the page.
13 PCOS-Friendly Lunches
PCOS Success Stories
Dietary change is the most effective PCOS natural treatment. If you want to know how to lose weight with PCOS, or how to get pregnant with PCOS, then food is the answer. This was certainly the case for LeeAnne and Jamie after taking part in my free 30-Day PCOS Diet Challenge.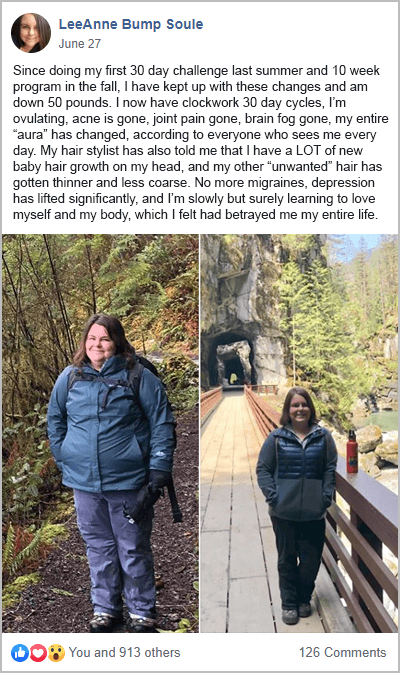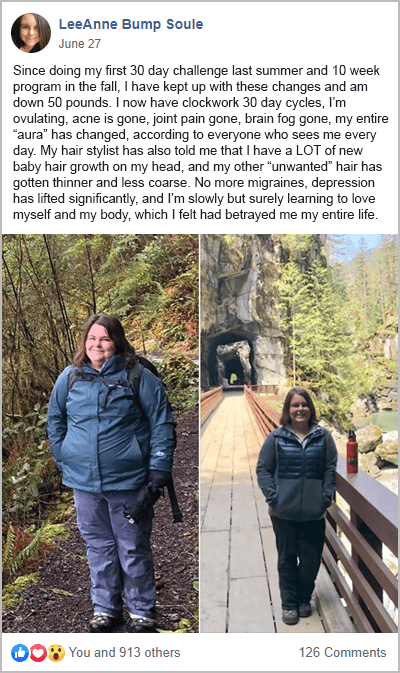 Ready To Take The Next Step?
If you're cleaning up your diet beyond just lunch, the following resources can help you put good ideas into practice:
PCOS Lunch Recipes FAQ
Why are gluten and dairy inflammatory for women with PCOS? PCOS is primarily an inflammatory disorder. Because of this women with PCOS tend to have subclinical sensitivities to gluten and dairy proteins. Consuming these foods can increase the permeability of the gut lining. The body then protects itself with an inflammatory response. For a more in-depth answer, see my articles on gluten and PCOS and PCOS and dairy.
Why is it important to improve insulin sensitivity? Poor insulin regulation is one of the primary drivers of all PCOS symptoms. This includes infertility [1, 2]. Because of this, changing how you consume carbohydrates treats PCOS at a systemic level.
How many carbs can I have for lunch? Black rice, sweet potato, and quinoa are some of the best carb-rich foods for PCOS. Approximately ½ cup (cooked) is a good serving size for lunch.
Are sandwiches a good idea for lunch? It depends on the ingredients. Gluten-free bread can be okay, but it tends to be too high in carbohydrates. Adding fat and protein can mitigate this problem, but there are generally better alternatives.
How can I make packed lunches easier? Getting a small cooler with an ice brick is a great investment. Mini-crockpots like this one are also helpful for reheating meals in the middle of a busy workday.
Where can I learn more about managing PCOS naturally? My PCOS blog has a range of articles for building knowledge. Some of my most popular articles include how to lose weight with PCOS, how to get pregnant with PCOS, and PCOS natural treatment. To put these good ideas into practice though, you're best off joining my free 30-Day PCOS Diet Challenge. Or download this free 3- Day Meal Plan.
Author
Since 2010, Kym Campbell has used evidence-based diet and lifestyle interventions to manage her PCOS. After getting her symptoms under control and falling pregnant naturally, Kym now advocates for dietary change as part of any PCOS treatment plan. Combining rigorous science and clinical advice with a pragmatic approach to habit change, Kym is on a mission to show other women how to take back control of their health and fertility. Read more about Kym and her team here.
References
1Barrea, L., et al., Source and amount of carbohydrate in the diet and inflammation in women with polycystic ovary syndrome. Nutr Res Rev, 2018. 31(2): p. 291-301.
2Wang, J., et al., Hyperandrogenemia and insulin resistance: The chief culprit of polycystic ovary syndrome. Life Sciences, 2019. 236.