By Kym Campbell, BSc. | Updated March 17th, 2023
If you're living with PCOS right now, then changing how you eat can reduce or eliminate your symptoms.
This is because the underlying mechanisms that cause PCOS are exacerbated by a modern Western diet. A good PCOS diet understands these mechanisms, with well-thought-out recipes providing a solution.
The ideas and recipes outlined below have delivered life-changing results for participants in my free 30-Day PCOS Diet Challenge. This free 3-Day Meal Plan is also a great place to start.
How to Create the Ideal PCOS Lunch
Like breakfast and dinner, all great PCOS lunch recipes have three things in common.
Firstly, they lower inflammation. This means avoiding gluten, dairy, and industrial seed oils. Sugar intake also needs to be kept as low as reasonably practical.
A good PCOS lunch also supports better insulin sensitivity. This is achieved by using low GI, whole food sources of carbohydrates. Fat and protein consumption is also prioritized.
Lastly, an ideal PCOS lunch improves gut health. Fiber-rich, non-starchy vegetables are central to this undertaking.
Here's how to apply these PCOS diet principles. Following these steps makes things simple while still ticking all your nutritional objectives. Forget about calories, carb-counting, and PCOS macros. Just do this:
Start with a protein-rich ingredient. Non-processed meats are best. Deli meats are out. Unlike most protein-rich plant foods, meat, seafood, and eggs have high protein content, but without all the carbs. Consuming protein at lunch increases satiety and reduces cravings later in the day.
Add non-starchy vegetables. These provide essential micronutrients and fiber. Good examples for lunch include cos lettuce, spinach, kale, broccoli, cucumber, tomatoes, and peppers.
Add a small serving of something carby. This also helps with carb cravings and is good for gut health. Starchy vegetables, beans, quinoa, or black rice are best. Exclude this step for a very low-carb meal.
Add loads of healthy fats and oils (as much as you like). This is especially important for PCOS weight loss. Beyond meat, fish, and eggs, some of the best high-fat foods include avocados, nuts, and olive oil. Eating plenty of fat also helps prevent cravings.
6 Quick & Easy Lunch Ideas
The following lunch ideas are so easy to make, they don't need a recipe. These kinds of lunches are perfect when you're in a rush and don't have much time for meal preparation.
The best way to create the perfect PCOS lunch is to eat dinner leftovers. If that means bringing a cooler to work, then so be it. This is what I do most days as it saves a lot of time. It's also the best way to guarantee I eat a well-rounded meal.
Preparing a wrap is another quick and easy one. It's best to use a lower GI, gluten free, dairy free wrap like these grain-free tortillas. These organic coconut wraps are also really nice. Choose unprocessed meats like roasted beef or chicken rather than deli meat. Make sure to add some greens and avocado too. Vegetable-oil-free dressings like these can make things pop.
Go a step further and sub the wraps for bell peppers. This is a very low-carb lunch that can help to drive weight loss. Just make sure to use unprocessed meat (not deli meat) and PCOS-friendly condiments.
If you're on the go, then two or three boiled eggs with a nutrient-dense smoothie is a great way to go. My PCOS-friendly Green Smoothie or Spicy Veggie Smoothie are good examples of healthy PCOS smoothie recipes.

If you're open to going half-in on meal prep, but still want something fast then try this. Take a can of salmon in olive oil. Mix it in a bowl with baby spinach, cherry tomatoes, and dressing. Done!
Marinated chicken drumsticks are one of my favorite fallback options. Eat them cold with some tomatoes and/or carrots and you've got yourself a healthy lunch.
13 More PCOS Lunches (Full Recipes)
If you're up for more cooking, then there are endless ways to make the best lunch for PCOS. Here are some of my favorite recipes to get you started. Click on the links for the full recipe.
PCOS Success Stories
Dietary change is the most effective PCOS natural treatment. If you want to know how to lose weight with PCOS, or how to get pregnant with PCOS, then food is the answer. It can also help with PCOS acne and PCOS pain. This was certainly the case for LeeAnne and Jamie after taking part in my free 30-Day PCOS Diet Challenge.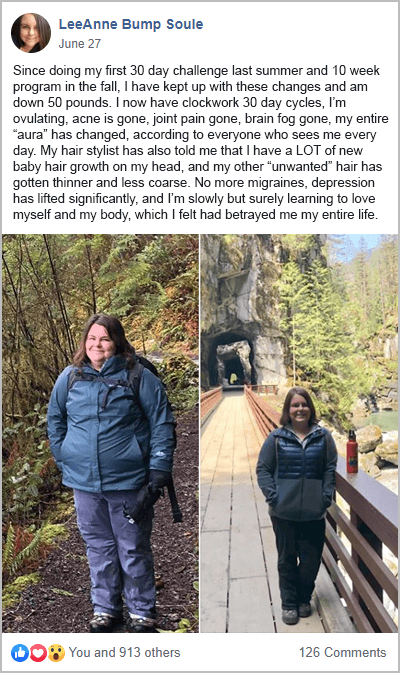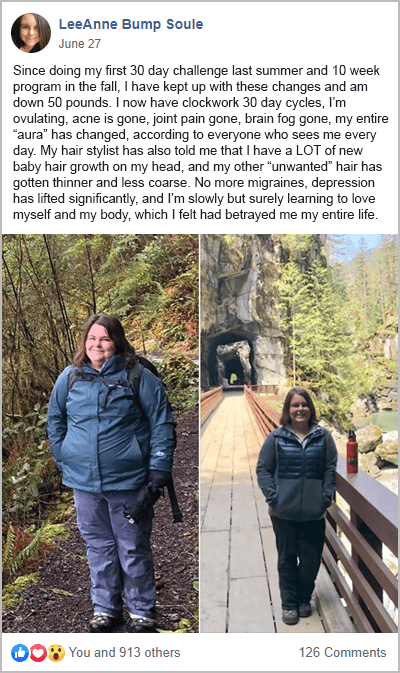 Ready To Take The Next Step?
If you're cleaning up your diet beyond just lunch, the following resources can help you put good ideas into practice:
PCOS Lunch FAQs
Why is gluten and dairy inflammatory for women with PCOS? PCOS is primarily an inflammatory disorder. Because of this women with PCOS tend to have subclinical sensitivities to gluten and dairy proteins. Consuming these foods can increase the permeability of the gut lining. The body then protects itself with an inflammatory response. For a more in-depth answer, see my articles on gluten and PCOS and PCOS and dairy.
Why is it important to improve insulin sensitivity? Poor insulin regulation is one of the primary drivers of all PCOS symptoms. This includes infertility [1, 2]. Because of this, changing how you consume carbohydrates treats PCOS at a systemic level.
How many carbs can I have for lunch? Black rice, sweet potato, and quinoa are some of the best carb-rich foods for PCOS. Approximately ½ cup (cooked) is a good serving size for lunch.
Are sandwiches a good idea for lunch? It depends on the ingredients. Gluten-free bread can be okay, but it tends to be too high in carbohydrates. Adding fat and protein can mitigate this problem, but there are generally better alternatives.
How can I make packed lunches easier? Getting a small cooler with an ice brick is a great investment. Mini-crockpots like this one are also helpful for reheating meals in the middle of a busy workday.
Where can I learn more about managing PCOS naturally? My PCOS blog has a range of articles for building knowledge. Some of my most popular articles include how to lose weight with PCOS, how to get pregnant with PCOS, and PCOS natural treatment. To put these good ideas into practice though, you're best off joining my free 30-Day PCOS Diet Challenge. Or download this free 3-Day Meal Plan.
Author
Since 2010, Kym Campbell has used evidence-based diet and lifestyle interventions to manage her PCOS. After getting her symptoms under control and falling pregnant naturally, Kym now advocates for dietary change as part of any PCOS treatment plan. Combining rigorous science and clinical advice with a pragmatic approach to habit change, Kym is on a mission to show other women how to take back control of their health and fertility. Read more about Kym and her team here.

Quick Disclosure: Some of the links on this page may be affiliate links. This means that when you use them to purchase something, it won't cost you more but I may get paid a commission for referring you. In order to avoid any prejudice, I only recommend products that I personally use or would have recommended anyways.
References
1Barrea, L., et al., Source and amount of carbohydrate in the diet and inflammation in women with polycystic ovary syndrome. Nutr Res Rev, 2018. 31(2): p. 291-301.
2Wang, J., et al., Hyperandrogenemia and insulin resistance: The chief culprit of polycystic ovary syndrome. Life Sciences, 2019. 236.