This post was updated on March 2nd, 2023

I see questions almost daily in the support group for my free 30-Day PCOS Diet Challenge, asking for smoothie recipes suitable for a PCOS diet. Given how popular smoothies are, I've recently been working really hard on compiling a collection of PCOS-friendly smoothies for this community.
As you'll notice, my kind of smoothies are much lower in sugar than what can generally be considered "normal" and that's because I want you to take every opportunity to nourish yourself well and not spike your blood sugar levels.
This Spicy Veggie Smoothie does exactly that. It's not sweet or creamy, but it's amazingly refreshing.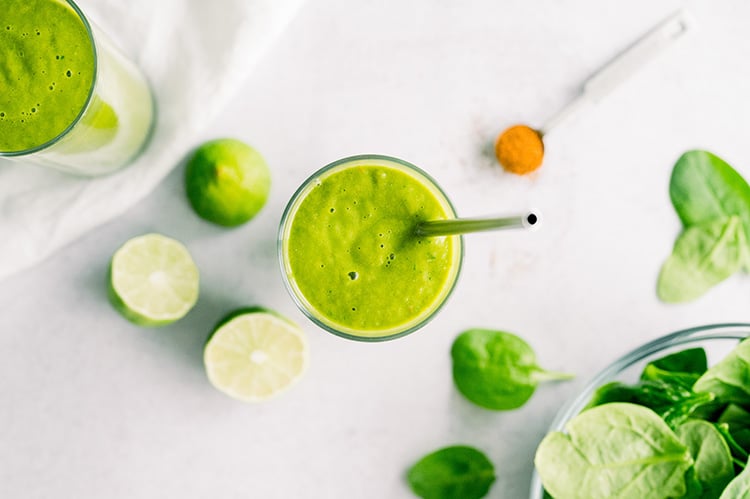 Here's everything you'll need to make this PCOS smoothie:
Coconut water
Cayenne powder
Baby spinach
Tomato
Carrot
Cucumber
Garlic
Avocado
Lime
If you're struggling to fit enough non-starchy vegetables in your diet, or you have a meal planned that's just meat and carbs, then a smoothie like this one can be a great option.
The ingredient list is pretty out-there so please let me know what you think!
xo Kym
P.S. If you are struggling to make the switch to a PCOS diet, I run a free 30-Day PCOS Diet Challenge every quarter which is the perfect way to really kickstart your health transformation. This live event includes weekly meal plans, recipes, shopping lists, and video lessons, all within a supportive community environment. However, if this recipe has inspired you and you want to get started right away, then I recommend downloading my free 3-Day PCOS Diet Meal Plan as well. It's a 15-page PDF ebook that contains some of my most popular PCOS recipes, a shopping list ready to go, and some additional information about how to use food to heal your PCOS.
Increase your veggie count for the day with this tasty PCOS smoothie recipe!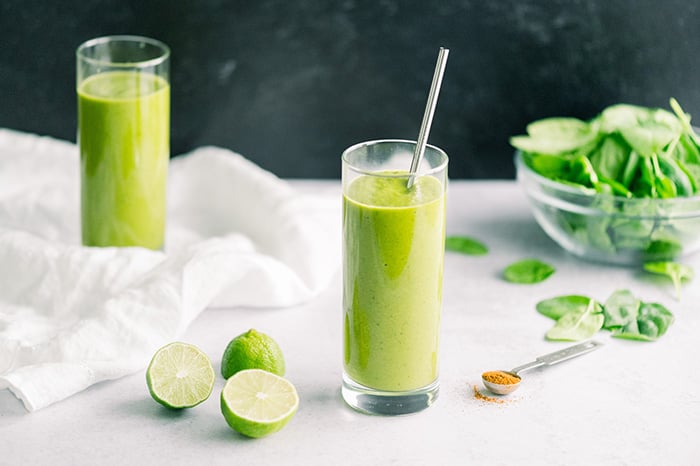 Yield:

2 SERVINGS
Spicy Veggie Smoothie (PCOS-Friendly)
If you're struggling to fit enough non-starchy vegetables in your diet, or you have a meal planned that's just meat and carbs, then a smoothie like this one can be a great option.
Ingredients
Pantry
1 cup Coconut water
1/2 tsp Cayenne powder
Vegetables
1 cup Baby spinach
1 Tomato (roughly chopped)
1 Carrot (roughly chopped, frozen)
1 Cucumber (roughly chopped, frozen)
1 tsp Garlic (minced)
Fruit
1 Avocado (fresh or frozen)
1 Lime (peeled)
Instructions
Combine all ingredients in a high-speed blender, then add a pinch of salt. Include both the juice and flesh of the lime. Process until smooth.
Pour into two serving glasses and enjoy.
Notes
This smoothie is best when the carrots and cucumbers are pre-frozen ahead of time. This keeps the smoothie both cold and thick. If you forget, or don't have time to pre-freeze these vegetables, add ½ cup of ice to the ingredients instead.
Nutrition Information:
Yield:
2
Serving Size:
1
Amount Per Serving:
Calories:

235
Total Fat:

15g
Saturated Fat:

2g
Trans Fat:

0g
Unsaturated Fat:

12g
Cholesterol:

0mg
Sodium:

164mg
Carbohydrates:

26g
Fiber:

11g
Sugar:

9g
Protein:

5g
Please note that the nutrition information above isn't always 100% accurate.
Combining rigorous science and clinical advice with a pragmatic approach to habit change, Kym is on a mission to show other women how to take back control of their health and fertility. Read more about Kym and her team here.

Quick Disclosure: Some of the links on this page may be affiliate links. This means that when you use them to purchase something, it won't cost you more but I may get paid a commission for referring you. In order to avoid any prejudice, I only recommend products that I personally use or would have recommended anyways.