This post was updated on March 2nd, 2023

Back in my olden days (long before I ever thought I'd be creating a free 30-Day PCOS Diet Challenge for women just like me), I remember when "a salad" usually meant iceberg lettuce, truss tomatoes, cucumber, and maybe some cheese? Fortunately, salad combinations have come a long way as this sweet potato noodle salad shows.
With a nice serving of low-GI, carbohydrate-rich whole foods, this salad makes an excellent partner to roasted or grilled meats!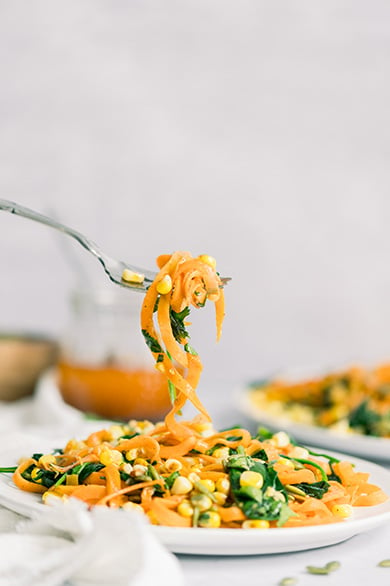 Here's everything you'll need to make this PCOS-friendly salad:
Olive oil
Pepitas
Chili powder
Salt
Sweet potato/yam
Corn on the cob
Fresh cilantro/coriander
Baby spinach
Garlic
Orange
Lemon juice
Try this recipe out on your family and friends. They'll be so busy admiring the dressing that they won't even notice that it's gluten-free, dairy-free, and low-sugar.
xo Kym
P.S. If you are struggling to make the switch to a PCOS diet, I run a free 30-Day PCOS Diet Challenge every quarter which is the perfect way to really kickstart your health transformation. This live event includes weekly meal plans, recipes, shopping lists, and video lessons, all within a supportive community environment. However, if this recipe has inspired you and you want to get started right away, then I recommend downloading my free 3-Day PCOS Diet Meal Plan as well. It's a 15-page PDF ebook that contains some of my most popular PCOS recipes, a shopping list ready to go, and some additional information about how to use food to heal your PCOS.
This PCOS salad recipe is perfect to add some extra color and nutrition to your day!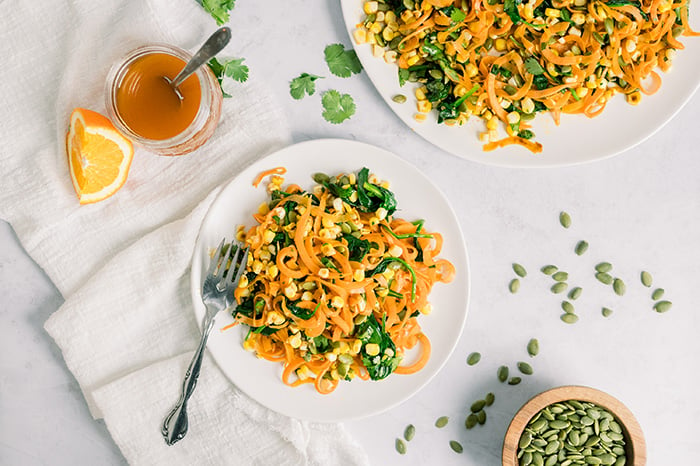 Yield:

4 SERVINGS
Sweet Potato Noodle Salad (PCOS-Friendly)
With a nice serving of low-GI, carbohydrate-rich whole foods, this salad makes an excellent partner to roasted or grilled meats!
Ingredients
Pantry
1/2 cup Olive oil
1/2 cup Pepitas
1/2 tsp Chili powder
1/2 tsp Salt
Vegetables
16 oz Sweet potato/yam
2 Corn on the cob (cut kernels off cob)
1 cup Fresh cilantro/coriander (chopped)
4 cup Baby spinach
1 tsp Garlic (minced)
Fruit
1 Orange (juiced)
2 tbsp Lemon juice
Instructions
Heat a skillet over medium heat. Add a generous amount of olive oil then fry the sweet potato noodles, tossing every couple of minutes until they're no longer stiff. Be careful not to overcook them either as you don't want them to get mushy. About 5 minutes should put you in the ball-park. Remove the noodles and set aside in a large bowl.
Soften up the baby spinach leaves by quickly spinning them in the skillet. Less cooking is better – you just want to reduce the volume a little. Add the spinach to the bowl containing the noodles.
Wipe out the skillet so it's dry and return to the heat. Roast the sweet corn by letting them brown-up on the hot skillet without stirring them. Give them a toss only every few minutes until done.
Add the corn to the bowl of noodles, along with the cilantro and pepitas.
For the dressing, combine olive oil, chili powder, garlic, orange juice, lemon juice and salt. Mix thoroughly.
Drizzle the dressing on top of the salad, and toss it around until well coated.
If you intend to enjoy this salad across several meals, it's best to keep the dressing separate until you're ready to eat.
Nutrition Information:
Yield:
4
Serving Size:
1
Amount Per Serving:
Calories:

543
Total Fat:

35g
Saturated Fat:

5g
Trans Fat:

0g
Unsaturated Fat:

29g
Cholesterol:

0mg
Sodium:

506mg
Carbohydrates:

52g
Fiber:

9g
Sugar:

13g
Protein:

10g
Please note that the nutrition information above isn't always 100% accurate.
Combining rigorous science and clinical advice with a pragmatic approach to habit change, Kym is on a mission to show other women how to take back control of their health and fertility. Read more about Kym and her team here.

Quick Disclosure: Some of the links on this page may be affiliate links. This means that when you use them to purchase something, it won't cost you more but I may get paid a commission for referring you. In order to avoid any prejudice, I only recommend products that I personally use or would have recommended anyways.