This post was updated on March 2nd, 2023

When I created the Companion Guide that goes alongside my free 30-Day PCOS Diet Challenge, this was one of the first recipes I picked to include in there!
Beef jerky is one of the best snacks of all time to have on hand when you are out of the house. I religiously carry some with me wherever I go, which will be a great negotiating tool if I ever encounter a hungry bear. Beef jerky is incredibly nutrient-dense and thanks to the protein content, it can also come to the rescue if you get caught out between meals.
Unfortunately, most store-bought beef jerky is full of sugar as well as lots of other nasties so I wanted to share this recipe for those of you who are up to the challenge of making your own.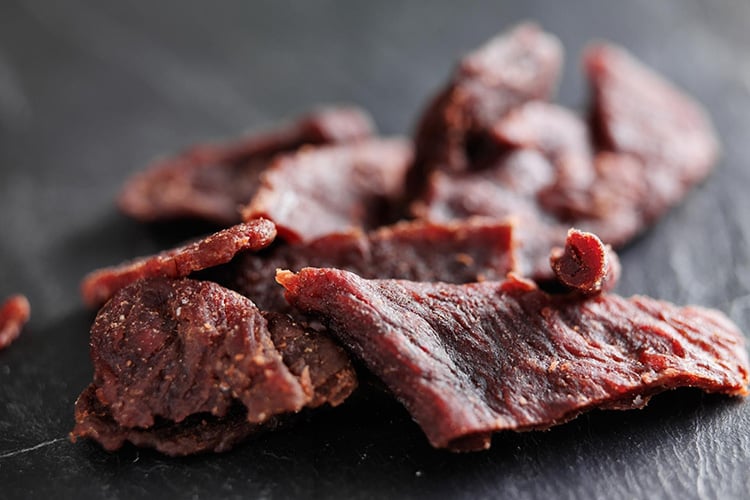 Here's everything you'll need to make this tasty PCOS-friendly snack:
Beef flank steaks
Chili powder
Garlic powder
Onion powder
Gluten-free tamari sauce
Hot sauce
Black pepper
Pro Tip: Getting a friendly butcher to slice the meat up nice and thin is a great idea to save you time and fingers.
xo Kym
P.S. If you are struggling to make the switch to a PCOS diet, I run a free 30-Day PCOS Diet Challenge every quarter which is the perfect way to really kickstart your health transformation. This live event includes weekly meal plans, recipes, shopping lists, and video lessons, all within a supportive community environment. However, if this recipe has inspired you and you want to get started right away, then I recommend downloading my free 3-Day PCOS Diet Meal Plan as well. It's a 15-page PDF ebook that contains some of my most popular PCOS recipes, a shopping list ready to go, and some additional information about how to use food to heal your PCOS.
This is one of the best snacks for PCOS to keep on hand!
Yield:

6 SERVINGS
Beef Jerky (PCOS-Friendly)
Total Time:
14 hours
10 minutes
Beef jerky is incredibly nutrient-dense and thanks to the protein content, it can also come to the rescue if you get caught out between meals.
Ingredients
Protein
2 lb Beef flank steaks (fat trimmed off, cut into thin strips approximately 1/4" wide x 1/2" thick)
Pantry
1/4 cup Hot sauce
2 tbsp Gluten-free tamari sauce
2 tsp Chili powder
1 tsp Garlic powder
1 tsp Onion powder
Instructions
Pound the strips lightly without making them too thin.
In a large bowl, mix all the pantry ingredients together with a teaspoon of black pepper.
Add in the beef strips, making sure you cover them all in the marinade.
Cover and refrigerate for 8 hours overnight.
Line two baking sheets with foil and lay strips out making sure they don't overlap.
Set your oven to the lowest temperature, this is usually around 175°F (80°C).
Bake for 6 hours, turning the strips over at the 3-hour mark.
The jerky is done when the meat has dried out. This may take more or less time than indicated depending on your oven so keep an eye on it.
Nutrition Information:
Yield:
6
Serving Size:
1
Amount Per Serving:
Calories:

302
Total Fat:

13g
Saturated Fat:

5g
Trans Fat:

0g
Unsaturated Fat:

6g
Cholesterol:

119mg
Sodium:

449mg
Carbohydrates:

2g
Fiber:

1g
Sugar:

0g
Protein:

43g
Please note that the nutrition information above isn't always 100% accurate.
Combining rigorous science and clinical advice with a pragmatic approach to habit change, Kym is on a mission to show other women how to take back control of their health and fertility. Read more about Kym and her team here.

Quick Disclosure: Some of the links on this page may be affiliate links. This means that when you use them to purchase something, it won't cost you more but I may get paid a commission for referring you. In order to avoid any prejudice, I only recommend products that I personally use or would have recommended anyways.