Protein powders can be a useful part of a healthy PCOS diet.
Some of the most successful participants from my free 30-Day PCOS Diet Challenge use protein powders daily. It's also why I use them in many of my recipes.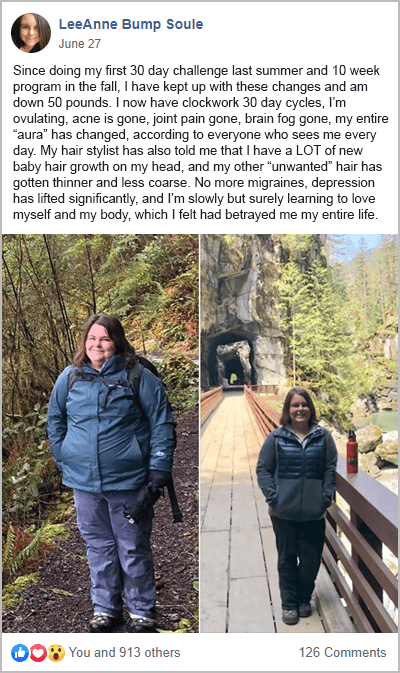 But not all protein powders are equal. Here are the best and worst products from a PCOS perspective.
Benefits of Protein Powder for PCOS
Protein powders are a quick and easy way to increase your nutrient intake. Studies in women with PCOS show that a high-protein diet is associated with improved depression and self-esteem [1]. Eating more protein may also reduce elevated testosterone levels [2]. This can improve PCOS acne, hirsutism, hair loss, and menstrual irregularities.
But the biggest benefit of protein powder comes from its role in weight loss [3]. This is, in part, because protein increases satiety more than carbs or fat. Higher protein diets are also linked to increased heat production. This helps you burn calories faster. Eating more protein promotes muscle mass over fat which is what you want for improving body composition.
The Worst PCOS Protein Powders
Whey Protein
During my free 30-Day PCOS Diet Challenge, I tell participants not to consume dairy products. At least until they've completed a thorough dairy-exclusion diet. This advice extends to whey protein powder which is derived from milk. As explained in my article on PCOS and Dairy, milk products can be pro-inflammatory [4, 5]. Whey protein powder may be particularly bad if acne is a problem for you [6, 7].
Soy Protein
Soy and PCOS is a complicated topic. Some forms of soy may be good for PCOS, but soy protein powder isn't one of them. That's mostly because it's heavily processed. The main concerns with soy protein powder in PCOS settings relate to potential negative effects on hormones. Studies have flagged thyroid function in particular, although this remains controversial [8]. It's also well-established that soy contains high amounts of the pesticide, glyphosate [9, 10]. This can be devastating for your health, even in low quantities.
Artificially Sweetened Protein Products
Most companies these days have caught on to the idea that people who buy protein powder, don't want added sugar. But pure protein still tastes as terrible as ever. The solution: add artificial sweetener.
Most low-sugar protein products use sucralose. This includes many of the top brands like Body Fortress Super Advanced Whey Protein. Sucralose, aka "Splenda" is the most widely used artificial sweetener in the US. But there are serious health concerns with this product. This is especially true for people with metabolic dysfunction. That includes almost everyone with PCOS. This article provides a nice summary of the latest science on sucralose.
When choosing protein products, look for ones that have been sweetened with stevia or monkfruit extract. There are fewer long-term safety concerns with these plant-derived sweeteners. Or better yet, buy unsweetened or naturally sweet products.
The Best Protein Powders
Beef Protein Isolate
A compelling argument can be made that animal protein is the best source of protein, especially in younger people [11]. This is why many of the recipes in my free 30-Day PCOS Diet Challenge include eggs and meat.
This logic extends to protein powders. Beef protein powders have a very high protein content. They're also very bioavailable. Beef protein powder is easily digestible making it suitable for women with digestive issues. The micronutrient profile of many beef protein powders also makes them uniquely beneficial. This includes things like iron, zinc, and vitamin B12. The biggest downside with beef protein powders is that they tend to be the most expensive.
Bulk Supplements produce one of the best beef protein isolates on the market. This is a pure product with nothing else added. It's also the cheapest per gram of protein compared with similar products.
Pea Protein Isolates
Pea protein isolates are the best plant-based protein powder for PCOS. Their amino acid profile and bioavailability rival animal-derived protein sources [12].
The biggest shortcoming of pea protein isolates is that they're relatively low in the amino acid methionine. One solution to this problem is to blend pea protein with hemp or brown rice protein. These protein powders are high in methionine. A 50/50 blend of pea and brown rice protein produces a more complete amino acid profile [13].
There's a range of products containing a blend of pea and brown rice protein. But the cheapest option is to buy these products separately and create your own homemade protein powder for PCOS.
iHerb offers a nice range of organic pea protein isolates and brown rice protein powders.
Collagen Protein
Collagen is a different kind of protein powder. It's not just another good source of amino acids. Collagen is higher in certain amino acids than other protein powders. These amino acids give collagen unique health benefits. These include better gut and joint health. It's also known to support healthy hair, skin, and nails.
Bone broth is a good dietary source of collagen. But collagen protein powders can deliver a more calculated dose of specific amino acids, without that meaty taste.
Vital Proteins, Collagen Peptides is one of the best collagen products on the market.
Hemp Protein
Hemp protein powder is my preferred protein powder for PCOS. It's a minimally processed protein powder that closely resembles a whole food. It's made by cold-pressing whole hemp seeds to remove the oil content.
This means that the protein content is lower than more processed protein powders. But this also means that it's higher in healthy fats and fiber. That's good for PCOS and fertility.
The biggest thing that hemp protein has going for it though is its taste. You don't need to blend this protein into a sweetened smoothie to make it tolerable. It has a natural sweetness and a creamy texture. Adding hemp makes food or drinks taste better.
A 30 g serving of hemp protein powder includes about 15 g of protein. A good organic hemp protein product will cost less than $1 per serve.
Best Way to Use Protein Powder
The most common way to use protein powders is to add a scoop or two to your favorite PCOS smoothie recipe. When I'm in a rush, adding hemp protein straight into unsweetened almond milk or water works fine too.
But this fat bomb recipe is my favorite way to use protein powder: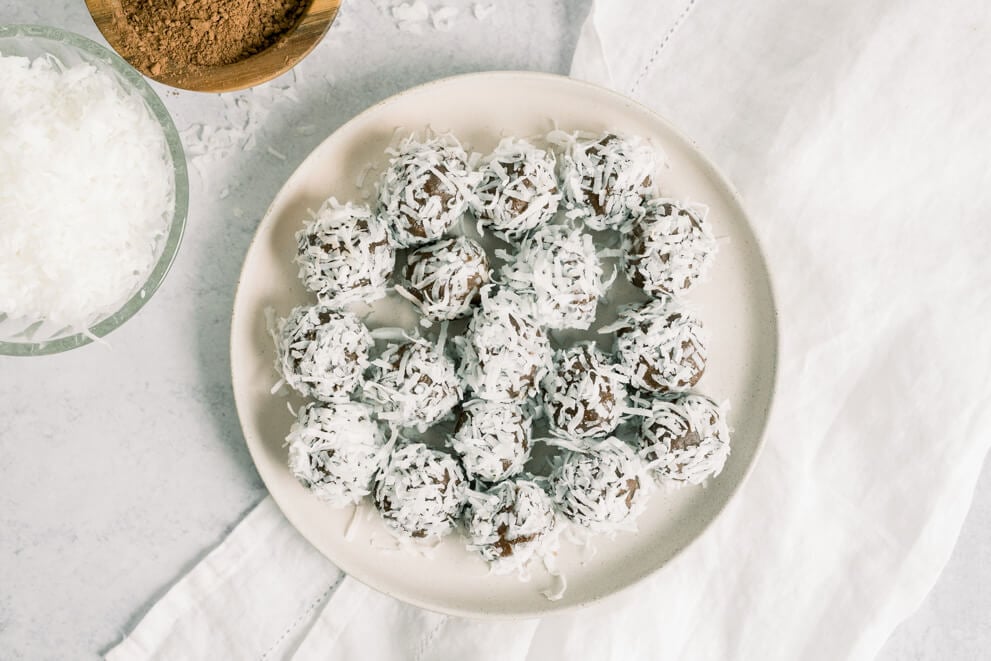 Ingredients
1 cup Almond butter
1 cup Coconut oil (melted)
2 ½ tbsp Raw honey
½ tsp Salt
½ cup Cacao powder
½ cup Hemp protein powder
½ cup Coconut flour
¾ cup Shredded coconut
¾ cup Walnuts (chopped)
Instructions
Add all the dry ingredients into a food processor, then mix well.
Add the almond butter, coconut oil, and honey then mix/process until homogenous.
Pour the mixture into a large dish. You want the depth to be around ½ – 1" (12 – 25 mm) thick. Sprinkle a little extra shredded coconut on top.
Freeze to help solidify the mixture. You need to be careful to get it cool enough to be able to cut into cubes or roll into balls, but not so cold that it forms a solid block. 30 minutes is about right.
Form the mixture into small, bite-sized balls, then roll in a little extra shredded coconut. To save a little time, you can also cut the frozen mixture into bite-sized cubes.
Freeze for at least another 30 minutes to solidify the fat bombs.
Keep frozen until you're ready to enjoy. The fat bombs will melt, so keep them in a cooler if you're heading out.
The Bottom Line
Protein powders can be a useful part of a healthy PCOS diet. But you need to be on your game when choosing suitable products. Products that contain whey, soy, or artificial sweeteners are best avoided. Instead choose from protein powders made using beef, pea, collagen, or hemp. These are the best protein powders for PCOS.
Of course, eating protein-rich foods is an even better way to increase your protein intake. Discover how best to do this by joining my next free 30-Day PCOS Diet Challenge. Or download this free 3-Day Meal Plan for some protein-rich, PCOS-friendly recipes.
Ready to Take Action?
Author
Combining rigorous science and clinical advice with a pragmatic approach to habit change, Kym is on a mission to show women with PCOS how to take back control of their health and fertility. Read more about Kym and her team here.

Quick Disclosure: Some of the links on this page may be affiliate links. This means that when you use them to purchase something, it won't cost you more but I may get paid a commission for referring you. In order to avoid any prejudice, I only recommend products that I personally use or would have recommended anyways.
References
1Moran, L.J., et al., Dietary composition in the treatment of polycystic ovary syndrome: a systematic review to inform evidence-based guidelines. J Acad Nutr Diet, 2013. 113(4): p. 520-45.
2Barrea, L., et al., Adherence to the Mediterranean Diet, Dietary Patterns and Body Composition in Women with Polycystic Ovary Syndrome (PCOS). Nutrients, 2019. 11(10).
3Paddon-Jones, D., et al., Protein, weight management, and satiety. Am J Clin Nutr, 2008. 87(5): p. 1558s-1561s.
4Bordoni, A., et al., Dairy products and inflammation: A review of the clinical evidence. Crit Rev Food Sci Nutr, 2017. 57(12): p. 2497-2525.
5Ulven, S.M., et al., Milk and Dairy Product Consumption and Inflammatory Biomarkers: An Updated Systematic Review of Randomized Clinical Trials. Adv Nutr, 2019. 10(suppl_2): p. S239-s250.
6Pontes Tde, C., et al., Incidence of acne vulgaris in young adult users of protein-calorie supplements in the city of João Pessoa–PB. An Bras Dermatol, 2013. 88(6): p. 907-12.
7Silverberg, N.B., Whey protein precipitating moderate to severe acne flares in 5 teenaged athletes. Cutis, 2012. 90(2): p. 70-2.
8Sathyapalan, T., et al., The effect of soy phytoestrogen supplementation on thyroid status and cardiovascular risk markers in patients with subclinical hypothyroidism: a randomized, double-blind, crossover study. J Clin Endocrinol Metab, 2011. 96(5): p. 1442-9.
9Bøhn, T., et al., Compositional differences in soybeans on the market: glyphosate accumulates in Roundup Ready GM soybeans. Food Chem, 2014. 153: p. 207-15.
10Bøhn, T. and E. Millstone, The Introduction of Thousands of Tonnes of Glyphosate in the food Chain-An Evaluation of Glyphosate Tolerant Soybeans. Foods, 2019. 8(12).
11Lim, M.T., et al., Animal Protein versus Plant Protein in Supporting Lean Mass and Muscle Strength: A Systematic Review and Meta-Analysis of Randomized Controlled Trials. Nutrients, 2021. 13(2).
12Guillin, F.M., et al., Real ileal amino acid digestibility of pea protein compared to casein in healthy humans: a randomized trial. Am J Clin Nutr, 2022. 115(2): p. 353-363.
13Gorissen, S.H.M., et al., Protein content and amino acid composition of commercially available plant-based protein isolates. Amino Acids, 2018. 50(12): p. 1685-1695.
Combining rigorous science and clinical advice with a pragmatic approach to habit change, Kym is on a mission to show women with PCOS how to take back control of their health and fertility. Read more about Kym and her team here.