This post was updated on March 5th, 2023

A big lesson that I share with those who participate in my free 30-Day PCOS Diet Challenge is that fat and protein make for the best breakfasts. These are the macronutrients that create a sustaining sense of fullness and they're key to ensuring good blood glucose regulation.
You'll see this recipe goes all-in on the whole "fat and protein is good" thesis. If weight loss or insulin regulation is important to you then this is the kind of breakfast that can really help. Give it a whirl and see how long it takes 'til you feel like snacking.
It also meets the criteria for Keto, Paleo, Whole30, GAPS, and SCD!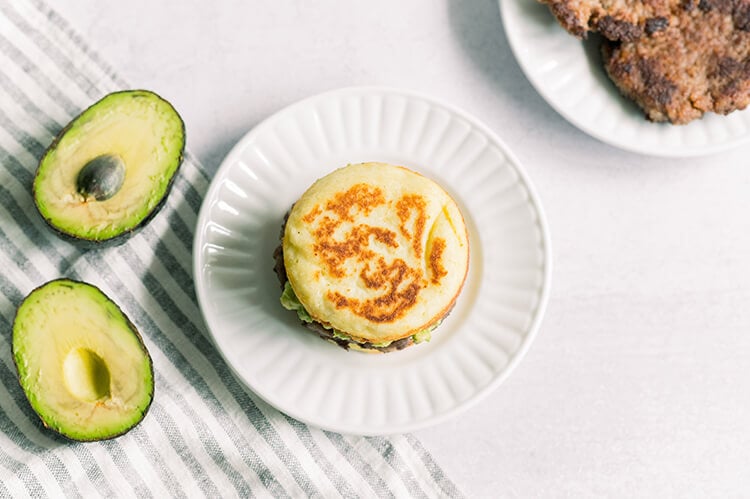 Here's everything you'll need to make these PCOS-friendly Sausage McMuffins:
Sausage patties (or beef patties)
Eggs
Ghee
Almond milk
Olive oil
Coconut flour
Almond flour
Baking powder
Salt
Avocado
While this new PCOS recipe may be inspired by the work of a McDonald's food scientist, the net result looks more to the liking of a paleolithic primate.
I hope you enjoy it!
xo Kym
P.S. If you are struggling to make the switch to a PCOS diet, I run a free 30-Day PCOS Diet Challenge every quarter which is the perfect way to really kickstart your health transformation. This live event includes weekly meal plans, recipes, shopping lists, and video lessons, all within a supportive community environment. However, if this recipe has inspired you and you want to get started right away, then I recommend downloading my free 3-Day PCOS Diet Meal Plan as well. It's a 15-page PDF ebook that contains some of my most popular PCOS recipes, a shopping list ready to go, and some additional information about how to use food to heal your PCOS.
Try this easy PCOS breakfast recipe this week!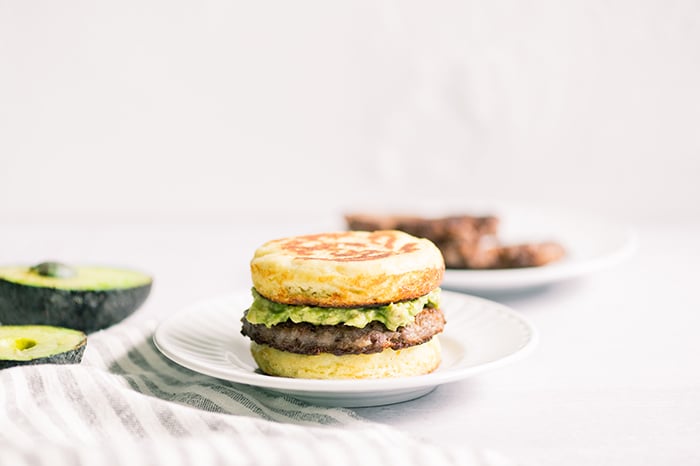 Yield:

1 SERVING
Sausage McMuffin (PCOS-Friendly)
This recipe goes all-in on the whole "fat and protein is good" thesis. If weight loss or insulin regulation is important to you then this is the kind of breakfast that can really help.
Ingredients
Protein
4 oz Sausage patties (or swap for beef patty)
1 Egg
Pantry
2 tbsp Ghee (divided)
1 tbsp Almond milk
1 tbsp Olive oil
1 tbsp Coconut flour
2 tbsp Almond flour
1/2 tsp Baking powder
1/4 tsp Salt
Fruit
Instructions
Melt ghee in a skillet over a medium high heat. Cook the sausage (or beef) patty, and set aside.
To make the biscuit, combine the egg, almond milk, olive oil, coconut flour, almond flour, baking powder, and salt in a small bowl.
Add some more ghee to the skillet and grease two 3.5" round biscuit cutters.
Place the cutters into the pan, and evenly distribute the biscuit mixture into each mold.
Turn the heat down low. Cook for about 4 minutes or until the biscuit mixture is mostly cooked through.
Carefully remove the molds and flip the biscuits. Cook for about 1 minute.
Assemble the "McMuffin" by placing the meat patty between the two biscuits, with some mashed avocado in between.
Nutrition Information:
Yield:
1
Serving Size:
1
Amount Per Serving:
Calories:

1068
Total Fat:

98g
Saturated Fat:

33g
Trans Fat:

0g
Unsaturated Fat:

60g
Cholesterol:

349mg
Sodium:

1832mg
Carbohydrates:

19g
Fiber:

9g
Sugar:

4g
Protein:

34g
Please note that the nutrition information above isn't always 100% accurate.
Since 2010, Kym Campbell has used evidence-based diet and lifestyle interventions to manage her PCOS. After getting her symptoms under control and falling pregnant naturally, Kym now advocates for dietary change as part of any PCOS treatment plan. Combining rigorous science and clinical advice with a pragmatic approach to habit change, Kym is on a mission to show other women how to take back control of their health and fertility. Read more about Kym and her team here.

Quick Disclosure: Some of the links on this page may be affiliate links. This means that when you use them to purchase something, it won't cost you more but I may get paid a commission for referring you. In order to avoid any prejudice, I only recommend products that I personally use or would have recommended anyways.