This post was updated on March 2nd, 2023

The breakfast frittata recipe included in my free 30-Day PCOS Diet Challenge meal plans is always a favorite amongst participants. So with that in mind, I've since whipped up a few other baked recipes that taste just as good and are equally as convenient for those busy days when made ahead of time.
So, if you want a meal that's compatible with your PCOS diet, grab-n-go, and tastes as good as bacon and eggs – look no further than this Swiss Chard Quiche. It's a simple quiche, with lots of vegetables, that's sure to fill your tank for a few hours.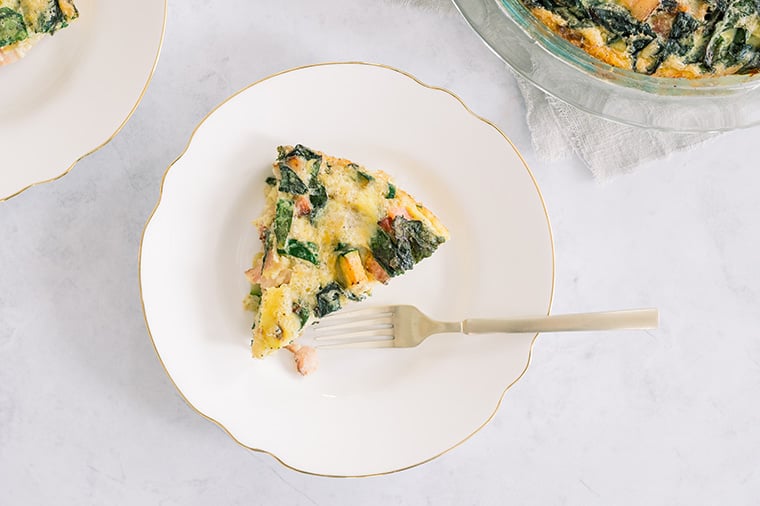 Here's everything you'll need to make this easy PCOS Swiss Chard Quiche:
Bacon (or pork belly)
Eggs
Olive oil
Canned coconut milk
Salt
Black pepper
Swiss chard
Zucchinis
Onions
Meals like this one can be a big gamechanger for women that are new to a PCOS-friendly diet. Since most typical breakfast foods are high in carbs, sugar, and/or gluten, the first meal of the day often presents one of the best opportunities to make substantial improvements to your health. By switching in recipes like this one, you can expect to start seeing results within weeks.
Enjoy!
xo Kym
P.S. If you are struggling to make the switch to a PCOS diet, I run a free 30-Day PCOS Diet Challenge every quarter which is the perfect way to really kickstart your health transformation. This live event includes weekly meal plans, recipes, shopping lists, and video lessons, all within a supportive community environment. However, if this recipe has inspired you and you want to get started right away, then I recommend downloading my free 3-Day PCOS Diet Meal Plan as well. It's a 15-page PDF ebook that contains some of my most popular PCOS recipes, a shopping list ready to go, and some additional information about how to use food to heal your PCOS.
PCOS breakfast's often require a bit of planning ahead, but the results are worth it!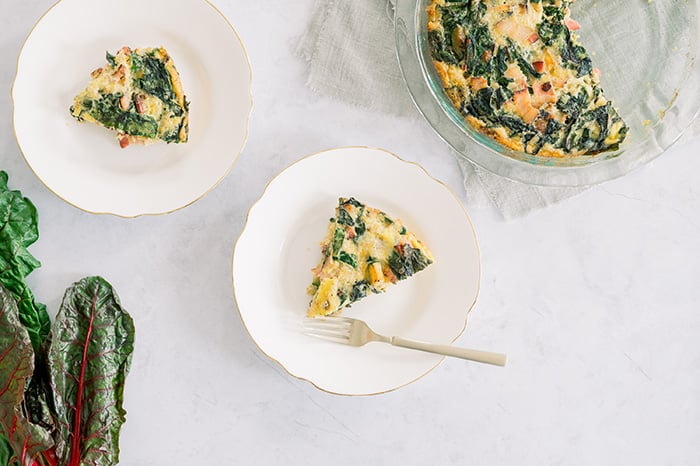 Yield:

6 SERVINGS
Swiss Chard Quiche (PCOS-Friendly)
If you want a breakfast food that's PCOS-friendly, grab-n-go, and tastes as good as bacon and eggs - look no further than this Swiss Chard Quiche. It's a simple quiche, with lots of vegetables, that's sure to fill your tank for a few hours.
Ingredients
Protein
12 oz Bacon (or pork belly, diced)
10 Eggs
Pantry
2 tbsp Olive oil
1/3 cup Canned coconut milk
3/4 tsp Salt
1/4 tsp Black pepper
Vegetable
3 cup Swiss chard (stems removed, roughly chopped)
1 Zucchini (diced)
1 Onion (diced)
Instructions
Preheat your oven to 350°F (180°C) and grease a 10" (25 cm) pie dish with olive oil.
In a large skillet over medium heat, add a little olive oil then fry the bacon and onions for 7-10 minutes before transferring to the pie dish. Leave as much fat in the skillet as possible as this will help cook the vegetables.
Add the Swiss chard and zucchini to the skillet while it's still hot and cook until soft. Transfer to the pie dish taking care to leave any surplus water in the skillet.
In a large bowl, whisk the eggs with the coconut milk, salt, and pepper. Pour into the dish and cover the bacon/vegetable mixture.
Bake in the oven for 30 minutes until the egg is fully set.
Cool for 15 minutes before serving with hot sauce, sugar-free ketchup, nutritional yeast, or hollandaise sauce.
Store any leftovers in a well-sealed container and keep in the refrigerator for up to four days.
Notes
I've suggested using Swiss chard for this quiche, but collard greens, spinach, kale, or any other leafy green vegetable will work just as well so use what's in season and whatever tastes best to you.
Nutrition Information:
Yield:
6
Serving Size:
1
Amount Per Serving:
Calories:

478
Total Fat:

35g
Saturated Fat:

12g
Trans Fat:

0g
Unsaturated Fat:

21g
Cholesterol:

366mg
Sodium:

1524mg
Carbohydrates:

8g
Fiber:

2g
Sugar:

3g
Protein:

32g
Please note that the nutrition information above isn't always 100% accurate.
Since 2010, Kym Campbell has used evidence-based diet and lifestyle interventions to manage her PCOS. After getting her symptoms under control and falling pregnant naturally, Kym now advocates for dietary change as part of any PCOS treatment plan. Combining rigorous science and clinical advice with a pragmatic approach to habit change, Kym is on a mission to show other women how to take back control of their health and fertility. Read more about Kym and her team here.

Quick Disclosure: Some of the links on this page may be affiliate links. This means that when you use them to purchase something, it won't cost you more but I may get paid a commission for referring you. In order to avoid any prejudice, I only recommend products that I personally use or would have recommended anyways.