This post was updated on March 2nd, 2023

If you've done my free 30-Day PCOS Diet Challenge before, you would know that I'm not in the habit of including snacks or dessert in your meal plan. This is not to say you shouldn't have them, it's just that it's such a personal choice that it seems almost pointless to make a useful suggestion in this department.
I have a slight preference for not snacking and instead sticking to three meals a day. This gives the body a chance to have a break from digestion and is more aligned with our natural eating behaviors. That said, if you're hungry or you want to snack, then you absolutely should. Provided you're still following PCOS diet principles there's nothing wrong with snacking, and it feels good emotionally.
With this in mind, here's this week's new recipe!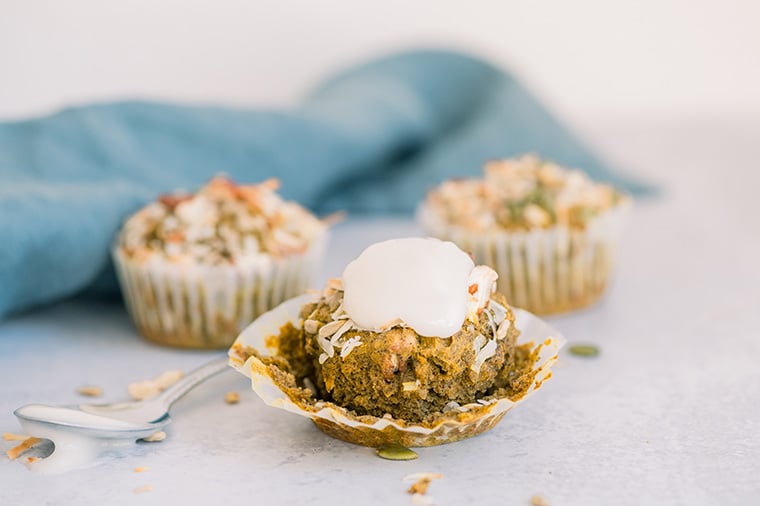 Here's everything you'll need to make these PCOS-friendly muffins:
Eggs
Gluten-free baking flour
Buckwheat flour
Baking powder
Ground nutmeg
Ground Ceylon cinnamon
Pecans
Almond milk
Ghee
Vanilla extract
Pumpkin puree
Sunflower seeds
Pepitas
Shredded coconut
These are not your average "cake-disguised-as-something-healthy" kind of muffins. They're actually a delicious little package of nutrient-dense healthy whole foods. Unlike the modern high sugar, low nutrient "muffins" you see in most cafés these days, these wee puppies will actually satisfy your hunger while still providing some natural sweetness and nutty goodness.
I hope you like them.
xo Kym
P.S. If you are struggling to make the switch to a PCOS diet, I run a free 30-Day PCOS Diet Challenge every quarter which is the perfect way to really kickstart your health transformation. This live event includes weekly meal plans, recipes, shopping lists, and video lessons, all within a supportive community environment. However, if this recipe has inspired you and you want to get started right away, then I recommend downloading my free 3-Day PCOS Diet Meal Plan as well. It's a 15-page PDF ebook that contains some of my most popular PCOS recipes, a shopping list ready to go, and some additional information about how to use food to heal your PCOS.
If you're looking for a PCOS dessert, make sure to save this recipe!
Yield:

12 SERVINGS
Spiced Nut Muffins (PCOS-Friendly)
These are not your average "cake-disguised-as-something-healthy" kind of muffins. They're actually a delicious little package of nutrient-dense healthy whole foods.
Ingredients
Protein
Pantry
1 cup Gluten-free baking flour (all-purpose)
1/2 cup Buckwheat flour
1 1/2 tsp Baking powder
1 tsp Ground nutmeg
2 tsp Ground Ceylon cinnamon (for batter)
1/2 cup Pecans (roughly chopped - for batter)
1/2 cup Almond milk
1/2 cup Ghee
2 tsp Vanilla extract
1 cup Pumpkin puree
1/4 cup Pecans (roughly chopped - for topping)
2 tbsp Sunflower seeds
2 tbsp Pepitas
2 tbsp Shredded coconut
1 tsp Ground Ceylon cinnamon (for topping)
Instructions
Preheat oven to 350°F (180°C). Lightly grease a 12-cup muffin tin or line with baking paper.
Sift the gluten-free baking flour, buckwheat flour, baking powder, nutmeg, and cinnamon in a large bowl. Then stir in the portion of pecans intended for the batter.
In a separate bowl, combine eggs, almond milk, ghee, vanilla extract, and pumpkin puree, and mix vigorously. Pour this mixture into the bowl of dry ingredients and stir until just combined. Spoon batter into muffin tin.
For your topping, combine the remaining pecans with sunflower seeds, pepitas, shredded coconut, and cinnamon. Sprinkle topping on muffin batter, and press down lightly to make sure it stays there.
Bake for 20-25 minutes or until a toothpick insert comes out clean. Allow to cool in muffin tray for a few minutes before removing them.
Serve fresh with a dollop of coconut yogurt or refrigerate for up to 3 days. Freeze remaining muffins for up to a month.
Nutrition Information:
Yield:
12
Serving Size:
1
Amount Per Serving:
Calories:

219
Total Fat:

16g
Saturated Fat:

7g
Trans Fat:

0g
Unsaturated Fat:

9g
Cholesterol:

53mg
Sodium:

158mg
Carbohydrates:

16g
Fiber:

3g
Sugar:

2g
Protein:

4g
Please note that the nutrition information above isn't always 100% accurate.
Since 2010, Kym Campbell has used evidence-based diet and lifestyle interventions to manage her PCOS. After getting her symptoms under control and falling pregnant naturally, Kym now advocates for dietary change as part of any PCOS treatment plan. Combining rigorous science and clinical advice with a pragmatic approach to habit change, Kym is on a mission to show other women how to take back control of their health and fertility. Read more about Kym and her team here.

Quick Disclosure: Some of the links on this page may be affiliate links. This means that when you use them to purchase something, it won't cost you more but I may get paid a commission for referring you. In order to avoid any prejudice, I only recommend products that I personally use or would have recommended anyways.