This post was updated on March 5th, 2023

There's no rule that you have to stick to the exact meal plan I provide during my free 30-Day PCOS Diet Challenge, so if you're participating in the next round, make sure to keep a copy of this recipe handy in case you want a bit more variety while sticking to the principles I'll be teaching you!
Here's a beautiful salad recipe that's perfect for family gatherings. I discovered this Asian Chicken Slaw at a time when I was getting so sick of my regular recipes and it helped me to remember that food should be enjoyable. We go to so much effort sourcing fresh ingredients and preparing healthy meals that it's always such a disappointment to only find you don't like the outcome. You don't need to worry about that with this recipe as it's an absolute winner in my opinion.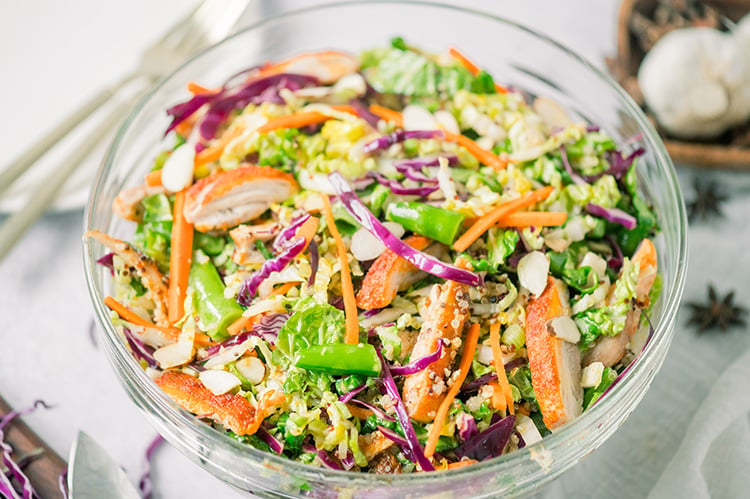 Here's everything you'll need to make this PCOS-Friendly Asian Chicken Slaw:
Chicken thighs
Garlic powder
Onion powder
Paprika
Salt
Coconut oil
Whole star anise
Apple cider vinegar
Olive oil
Sesame oil
Coconut aminos
Almonds
Cooked quinoa
Chinese cabbage
Carrots
Red cabbage
Sugar snap peas
Ginger
Garlic
Scallions
There's a lot of slicing and dicing involved so a mandolin slicer or even a suitable food processor can be very helpful for getting this salad ready. Provided you keep the dressing separate from the slaw, this salad will keep well for several days making it great for getting you through a busy week!
xo Kym
P.S. If you are struggling to make the switch to a PCOS diet, I run a free 30-Day PCOS Diet Challenge every quarter which is the perfect way to really kickstart your health transformation. This live event includes weekly meal plans, recipes, shopping lists, and video lessons, all within a supportive community environment. However, if this recipe has inspired you and you want to get started right away, then I recommend downloading my free 3-Day PCOS Diet Meal Plan as well. It's a 15-page PDF ebook that contains some of my most popular PCOS recipes, a shopping list ready to go, and some additional information about how to use food to heal your PCOS.
Try this PCOS recipe next time you're feeling like trying something new!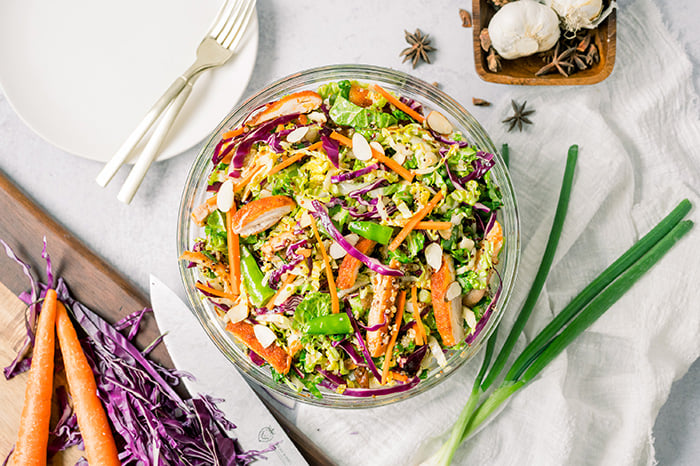 Yield:

6 SERVINGS
Asian Chicken Slaw (PCOS-Friendly)
Here's a beautiful salad recipe that's perfect for family gatherings. I discovered this Asian Chicken Slaw at a time when I was getting so sick of my regular recipes and it helped me to remember that food should be enjoyable!
Ingredients
Protein
2 lb Chicken thighs (boneless)
Pantry
1 tsp Garlic powder
1 tsp Onion powder
2 tsp Paprika
1 tsp Salt
3 tbsp Coconut oil
1 Whole star anise
1/2 cup Apple cider vinegar
3/4 cup Olive oil
1 tbsp Sesame oil
2 tbsp Coconut aminos
1/2 cup Almonds (chopped)
1.5 cup Cooked quinoa
Vegetables
1 Chinese cabbage (cored, thinly sliced)
2 Carrots (julienned)
1/8 Red cabbage (cored, thinly sliced)
2 cup Sugar snap peas (roughly chopped)
1 tsp Ginger (finely chopped - for the vegetables)
1 tsp Ginger (grated - for the dressing)
1 tsp Garlic (minced)
2 Scallions (chopped, greens and whites separated)
Instructions
Prepare the chicken: Season the chicken with garlic powder, onion powder, paprika, and salt then bake, grill or fry until cooked through. Allow to cool, then shred or cut into bite-sized pieces.
Sauté the vegetables: Add plenty of coconut oil to the skillet and sauté the finely chopped ginger, minced garlic, the white portion of the scallions, and star anise. They only need 30 seconds or so, to release their aroma. Remove the star anise once you're done.
Add the thinly sliced Chinese cabbage and julienned carrots, and gently toss the vegetables until they begin to soften. The less time you cook the vegetables the crispier they'll be so it's best to only give them a couple of minutes at most. Once done, add to a large mixing bowl.
Prepare the dressing: Combine apple cider vinegar, olive oil, sesame oil, coconut aminos, and grated ginger in a small bowl.
Put it all together: Take the large bowl containing the sauteed vegetables, and add the thinly sliced purple cabbage, sugar snap peas, slivered almonds, cooked quinoa, and chicken. Pour the dressing on top and give it a quick toss.
If you plan on having this dish over multiple days, keep the dressing separate and use it just prior to serving. This will help keep the slaw from going soggy.
Notes
Exclude the quinoa for a low-carb variation. It still tastes great without it.
Nutrition Information:
Yield:
6
Serving Size:
1
Amount Per Serving:
Calories:

814
Total Fat:

64g
Saturated Fat:

17g
Trans Fat:

0g
Unsaturated Fat:

46g
Cholesterol:

194mg
Sodium:

824mg
Carbohydrates:

21g
Fiber:

5g
Sugar:

5g
Protein:

42g
Please note that the nutrition information above isn't always 100% accurate.
Since 2010, Kym Campbell has used evidence-based diet and lifestyle interventions to manage her PCOS. After getting her symptoms under control and falling pregnant naturally, Kym now advocates for dietary change as part of any PCOS treatment plan. Combining rigorous science and clinical advice with a pragmatic approach to habit change, Kym is on a mission to show other women how to take back control of their health and fertility. Read more about Kym and her team here.

Quick Disclosure: Some of the links on this page may be affiliate links. This means that when you use them to purchase something, it won't cost you more but I may get paid a commission for referring you. In order to avoid any prejudice, I only recommend products that I personally use or would have recommended anyways.