This post was updated on March 5th, 2023

Over the 5 years I've been running my free 30-Day PCOS Diet Challenge, I've noticed that PCOS breakfast recipes seem to be the trickiest to get everyone on board with. And I totally get it! Most of us have spent the majority of our lives eating the same type of breakfast, so switching over to something a bit different can be tough. While I do have a couple of "sweeter" options in my meal plans, I don't have any specific pancake recipes, so I thought I'd give it a go for you. They may not be the same as what you're used to, but I promise they are super tasty!
There's no doubt that pumpkin pancakes are delicious, but they require more patience to make than your regular wheat flour version. Before trying this recipe for the first time I highly recommend making sure you're feeling "zen" and you have plenty of time on your hands in case things don't go to plan.
Make no mistake, this breakfast isn't nearly as good from a nutritional perspective as some of the others I've posted previously, but if you're wanting a treat, then they're a pretty great option.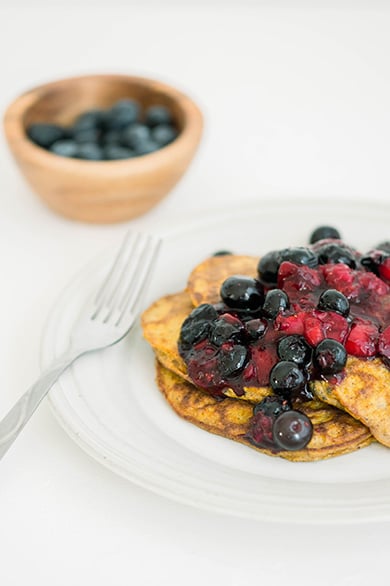 Here's everything you'll need to make these PCOS-Friendly Pumpkin Pancakes:
Eggs
Pumpkin puree
Vanilla extract
Ground Ceylon cinnamon
Pumpkin pie spice
Baking soda
Salt
Coconut flour
Ghee
Coconut yogurt
Frozen blueberries
As a symptom of my sugar addiction, I used to be a heavy consumer of pancake syrups which is absolutely terrible for PCOS – even maple syrup ain't great, sorry. Fortunately, this was something I was able to grow out of and I see the same thing happening with all of the women who succeed with a PCOS-friendly diet. My hope is that after you've been eating a low-sugar diet for a couple of months, you'll find the natural sugars in both the pumpkin and berries more than enough to satisfy your sweet tooth. If you absolutely need a sweetener, then try adding a little raw, unprocessed honey and whatever you do, make sure to eat these mindfully.
If you're feeling up for it, you can make your own pumpkin puree for this recipe really easily. Simply roast some pumpkin cubes in a little coconut oil until tender, then blitz 'til it's smooth in a food processor or high-speed blender.
Enjoy!
xo Kym
P.S. If you are struggling to make the switch to a PCOS diet, I run a free 30-Day PCOS Diet Challenge every quarter which is the perfect way to really kickstart your health transformation. This live event includes weekly meal plans, recipes, shopping lists, and video lessons, all within a supportive community environment. However, if this recipe has inspired you and you want to get started right away, then I recommend downloading my free 3-Day PCOS Diet Meal Plan as well. It's a 15-page PDF ebook that contains some of my most popular PCOS recipes, a shopping list ready to go, and some additional information about how to use food to heal your PCOS.
If you want to try a new PCOS breakfast recipe this weekend, look no further than these pancakes!
Yield:

2 SERVINGS
Pumpkin Pancakes (PCOS-Friendly)
There's no doubt that pumpkin pancakes are delicious, but they require more patience to make than your regular wheat flour version.
Ingredients
Protein
Pantry
1/2 cup Pumpkin puree
1 tsp Vanilla extract
1 tsp Ground Ceylon cinnamon
1 tsp Pumpkin pie spice
1/2 tsp Baking soda
1/8 tsp Salt
2 tbsp Coconut flour (optional, incase your batter is too runny)
1 tbsp Ghee (for the batter)
2 tbsp Ghee (for frying pancakes)
1/2 cup Coconut yogurt
Fruit
Instructions
In a large mixing bowl, combine the eggs, pumpkin puree, vanilla extract, cinnamon, pie spice, baking soda, and salt. Whisk and mix to create a completely smooth mixture. Some people will recommend using a sifter to avoid any lumps with the dry ingredients, but I usually just take my chances.
How thick or runny the batter is will depend on the pumpkin puree you use as well as your eggs so you may find a little trial and error is necessary to get the right consistency. Generally speaking, having a slightly runnier mixture than what you may be used to is better. If you need to thicken the batter up though, mix in 1-2 tbsp of coconut flour and allow the mixture to sit for 10 minutes or so.
Preheat a large skillet over a medium-low heat. To complete the batter preparation, quickly melt the ghee and combine into the mixture before returning the skillet to the heat.
Add a generous amount of ghee to the skillet and pour your batter in to make pancakes.
When a few bubbles begin to appear, flip the pancakes over until they cook through on the other side. Repeat the process until all the batter is gone.
If you find that your pancakes are burnt on the outside and uncooked on the inside, this means you need to turn the heat down and cook them slower. A little practice may be required to get them right.
Finish the pancakes with some berries and yogurt. I will often create a basic mixed berry compote by simply heating and stirring a few frozen berries in a small pot. As soon as they're soft, you're good to go.
Nutrition Information:
Yield:
2
Serving Size:
1
Amount Per Serving:
Calories:

468
Total Fat:

31g
Saturated Fat:

16g
Trans Fat:

0g
Unsaturated Fat:

12g
Cholesterol:

422mg
Sodium:

638mg
Carbohydrates:

31g
Fiber:

6g
Sugar:

19g
Protein:

18g
Please note that the nutrition information above isn't always 100% accurate.
Since 2010, Kym Campbell has used evidence-based diet and lifestyle interventions to manage her PCOS. After getting her symptoms under control and falling pregnant naturally, Kym now advocates for dietary change as part of any PCOS treatment plan. Combining rigorous science and clinical advice with a pragmatic approach to habit change, Kym is on a mission to show other women how to take back control of their health and fertility. Read more about Kym and her team here.

Quick Disclosure: Some of the links on this page may be affiliate links. This means that when you use them to purchase something, it won't cost you more but I may get paid a commission for referring you. In order to avoid any prejudice, I only recommend products that I personally use or would have recommended anyways.