This post was updated on March 5th, 2023

During my free 30-Day PCOS Diet Challenge, you'll notice that most of the recipes in the meal plans prompt you to make enough for leftovers the next day. If you're one of the people who struggle to eat the same meal multiple days in a row but would like to find ways to reduce food waste, perhaps this recipe might do the trick. You can even try adding some herbs or spices to each individual muffin to keep things interesting!
This easy PCOS recipe offers another arrow in your quiver for repurposing dinner leftovers into a delicious lunch, snack or even breakfast on-the-go. You can pretty much pile any combination into these egg muffins, but it's preferable if you can use a mix of both starchy and non-starchy vegetables to promote better gut health.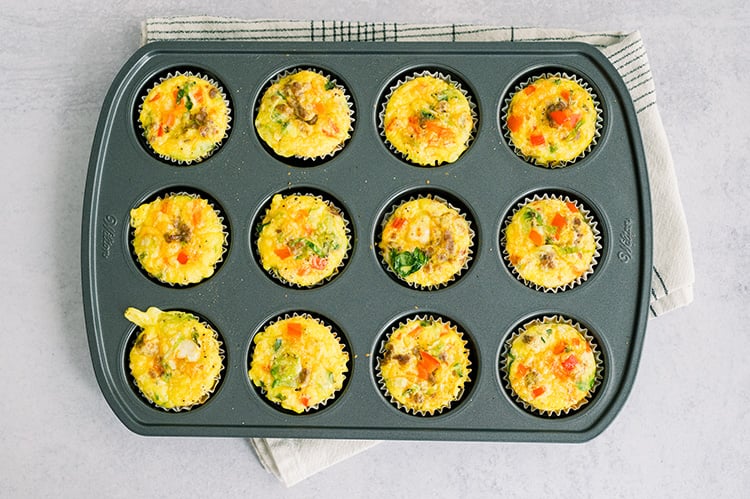 Here's everything you'll need to make these PCOS-Friendly Egg Muffins:
Eggs
Leftover cooked meat
Leftover vegetables
Coconut flour
Salt
Pepper
I'll usually whip up a batch of these muffins on the weekend before I do my weekly grocery shop. It clears out the fridge of any leftovers before I stock it back up, and I have my lunch ready to go for the week.
Enjoy!
xo Kym
P.S. If you are struggling to make the switch to a PCOS diet, I run a free 30-Day PCOS Diet Challenge every quarter which is the perfect way to really kickstart your health transformation. This live event includes weekly meal plans, recipes, shopping lists, and video lessons, all within a supportive community environment. However, if this recipe has inspired you and you want to get started right away, then I recommend downloading my free 3-Day PCOS Diet Meal Plan as well. It's a 15-page PDF ebook that contains some of my most popular PCOS recipes, a shopping list ready to go, and some additional information about how to use food to heal your PCOS.
Reduce food waste and stock the fridge with this versatile PCOS lunch recipe!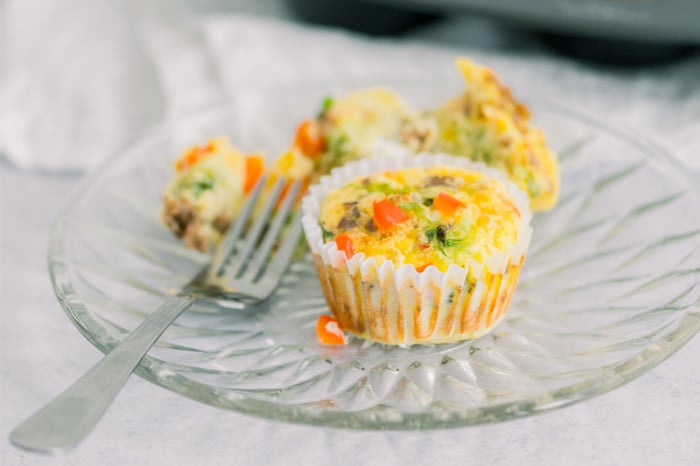 Yield:

4 SERVINGS
Grab 'n' Go Egg Muffins (PCOS-Friendly)
This easy PCOS recipe offers another arrow in your quiver for repurposing dinner leftovers into a delicious lunch, snack or even breakfast on-the-go.
Ingredients
Protein
8 Eggs
1 cup Leftover cooked meat
Pantry
1 1/2 tbsp Coconut flour
3/4 tsp Salt
1/4 tsp Pepper
Vegetables
1 cup Leftover vegetables
Instructions
Preheat your oven to 375°F (190°C) and line a 12-cup muffin tin.
Divide your leftovers evenly between each cup. About 2-3 tablespoons per cup should do it.
Whisk up your eggs, coconut flour, and salt, making sure there are no lumps.
Pour the egg mixture evenly into each cup. Leave about ¼" (6 mm) of space from the top to allow room for the muffin to rise in the oven. Crack some pepper on top.
Bake the muffins for 20 minutes. You can check that they're done by inserting a toothpick into the center – it should come out clean.
Let them cool for about 5 minutes in the muffin tin before removing them onto a wire rack.
Keep refrigerated in a sealed container for up to 3-4 days, or store in the freezer for up to 4 months.
Nutrition Information:
Yield:
4
Serving Size:
1
Amount Per Serving:
Calories:

263
Total Fat:

14g
Saturated Fat:

5g
Trans Fat:

0g
Unsaturated Fat:

8g
Cholesterol:

403mg
Sodium:

619mg
Carbohydrates:

8g
Fiber:

2g
Sugar:

2g
Protein:

24g
Please note that the nutrition information above isn't always 100% accurate.
Since 2010, Kym Campbell has used evidence-based diet and lifestyle interventions to manage her PCOS. After getting her symptoms under control and falling pregnant naturally, Kym now advocates for dietary change as part of any PCOS treatment plan. Combining rigorous science and clinical advice with a pragmatic approach to habit change, Kym is on a mission to show other women how to take back control of their health and fertility. Read more about Kym and her team here.

Quick Disclosure: Some of the links on this page may be affiliate links. This means that when you use them to purchase something, it won't cost you more but I may get paid a commission for referring you. In order to avoid any prejudice, I only recommend products that I personally use or would have recommended anyways.