This post was updated on March 5th, 2023

Something that a lot of participants in my free 30-Day PCOS Diet Challenge find hard to believe when I tell them, is that fat doesn't actually make you fat. Once they start enjoying healthy fats with each of their meals though, the results speak for themselves.
Guacamole is one of my go to snacks because it's both delicious and super good for you. The avocados in guacamole contain high amounts of fat soluble vitamins that are less common in other fruits. They are also a great source of protein, and potassium, which is a mineral that only 3% of Americans are getting enough of (Fulgoni et al. 2011). Studies have shown that a balanced diet that includes the consumption of avocados can have beneficial health effects especially in improving cholesterol and preventing cardiovascular diseases (Duarte et al. 2016) – attributes that are highly relevant to women with PCOS.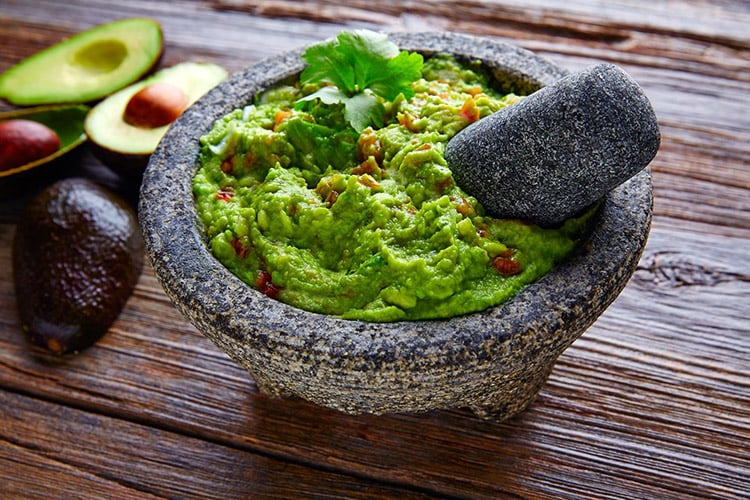 Here's everything you'll need to make this PCOS-Friendly Guacamole:
Avocados
Tomatoes
Onions
Fresh cilantro/coriander
Lime juice
Salt
Pepper
Before I finish up here, I want to share some more interesting research which found that eating guacamole along with other salad vegetables actually increases the absorption of important micronutrients contained within the salad (Unlu et al. 2005; Kopec et. al 2014). Who would have thought you can actually make vegetables even healthier by eating them with fat?
Guacamole makes a great dip for vegetables, or you can even throw it on top of your steak and eggs in the morning!
xo Kym
P.S. If you are struggling to make the switch to a PCOS diet, I run a free 30-Day PCOS Diet Challenge every quarter which is the perfect way to really kickstart your health transformation. This live event includes weekly meal plans, recipes, shopping lists, and video lessons, all within a supportive community environment. However, if this recipe has inspired you and you want to get started right away, then I recommend downloading my free 3-Day PCOS Diet Meal Plan as well. It's a 15-page PDF ebook that contains some of my most popular PCOS recipes, a shopping list ready to go, and some additional information about how to use food to heal your PCOS.
If you're looking for a quick and easy PCOS snack recipe, you have to try this one!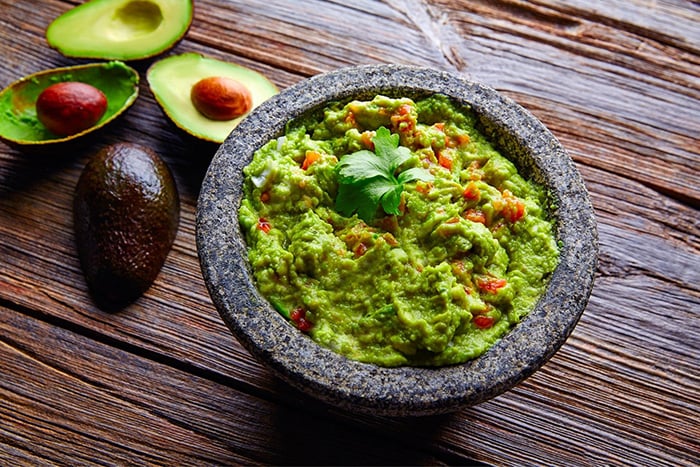 Yield:

4 SERVINGS
Guacamole (PCOS-Friendly)
Guacamole makes a great dip for vegetables, or you can even throw it on top of your steak and eggs in the morning!
Ingredients
Pantry
Salt to taste
Pepper to taste
Vegetables
1 Tomato (finely diced)
1/2 Onion (finely diced)
1/2 cup Fresh cilantro/coriander
Fruit
3 Avocados (pit removed)
2 tbsp Lime juice
Instructions
Scoop the avocado flesh into a bowl and mash with a fork.
Stir in the other ingredients with some salt and pepper to taste.
If you're not serving it right away, store it in the fridge covered with plastic wrap.
To prevent the guacamole from browning, press the plastic wrap right on top of the dip so it doesn't come in contact with air.
Nutrition Information:
Yield:
4
Serving Size:
1
Amount Per Serving:
Calories:

256
Total Fat:

22g
Saturated Fat:

3g
Trans Fat:

0g
Unsaturated Fat:

18g
Cholesterol:

0mg
Sodium:

159mg
Carbohydrates:

16g
Fiber:

11g
Sugar:

3g
Protein:

4g
Please note that the nutrition information above isn't always 100% accurate.
Since 2010, Kym Campbell has used evidence-based diet and lifestyle interventions to manage her PCOS. After getting her symptoms under control and falling pregnant naturally, Kym now advocates for dietary change as part of any PCOS treatment plan. Combining rigorous science and clinical advice with a pragmatic approach to habit change, Kym is on a mission to show other women how to take back control of their health and fertility. Read more about Kym and her team here.
References:
Duarte, Patricia Fonseca; Chaves, Marcia Alves; Borges, Caroline Dellinghausen; et al. Avocado: characteristics, health benefits and uses. CIENCIA RURAL, 2016.
Fulgoni, Victor L., III; Keast, Debra R.; Bailey, Regan L.; et al. Foods, Fortifcants, and Supplements: Where Do Americans Get Their Nutrients? JOURNAL OF NUTRITION, 2011.
Kopec, Rachel E.; Cooperstone, Jessica L.; Schweiggert, Ralf M.; et al. JOURNAL OF NUTRITION, 2014. Avocado Consumption Enhances Human Postprandial Provitamin A Absorption and Conversion from a Novel Highbeta-Carotene Tomato Sauce and from Carrots. Kopec, Rachel E.; Cooperstone, Jessica L.; Schweiggert, Ralf M.; et al. JOURNAL OF NUTRITION, 2014.
Unlu, NZ; Bohn, T; Clinton, SK; et al. Carotenoid absorption from salad and salsa by humans is enhanced by the addition of avocado or avocado oil. JOURNAL OF NUTRITION, 2005.

Quick Disclosure: Some of the links on this page may be affiliate links. This means that when you use them to purchase something, it won't cost you more but I may get paid a commission for referring you. In order to avoid any prejudice, I only recommend products that I personally use or would have recommended anyways.