This post was updated on March 5th, 2023

I find breakfast to be one of the tougher meals to get right when it comes to a PCOS-friendly diet, and this is also something I hear often from those who join my free 30-Day PCOS Diet Challenge.
We're tired, we're rushed, and I get that meat and vegetables (the ideal breakfast nutritionally speaking) may not appeal to everyone. Well, fortunately, a PCOS-friendly diet is flexible enough to not let perfect be the enemy of the good.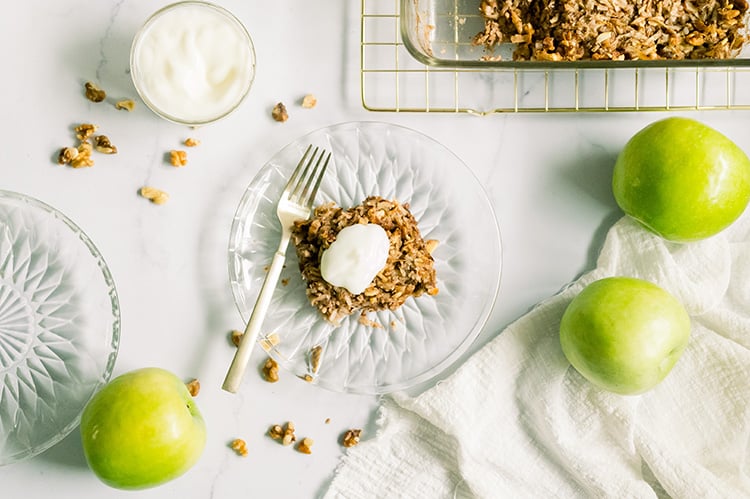 Here's everything you'll need to make this PCOS Granola Bake:
Flaxseed/Linseed meal
Almonds
Walnuts
Pecans
Coconut flakes
Coconut oil
Almond milk
Coconut oil
Apple pie spice
Ground Ceylon cinnamon
Salt
Apples
Filtered water
This granola bake recipe is a fantastic, prep-ahead-for-several-days kinda breakfast. It's super-delicious and also very filling, making it the perfect addition to your recipe collection.
Let me know what you think!
xo Kym
P.S. If you are struggling to make the switch to a PCOS diet, I run a free 30-Day PCOS Diet Challenge every quarter which is the perfect way to really kickstart your health transformation. This live event includes weekly meal plans, recipes, shopping lists, and video lessons, all within a supportive community environment. However, if this recipe has inspired you and you want to get started right away, then I recommend downloading my free 3-Day PCOS Diet Meal Plan as well. It's a 15-page PDF ebook that contains some of my most popular PCOS recipes, a shopping list ready to go, and some additional information about how to use food to heal your PCOS.
If you're finding breakfast for PCOS hard to manage, this recipe will save you plenty of time!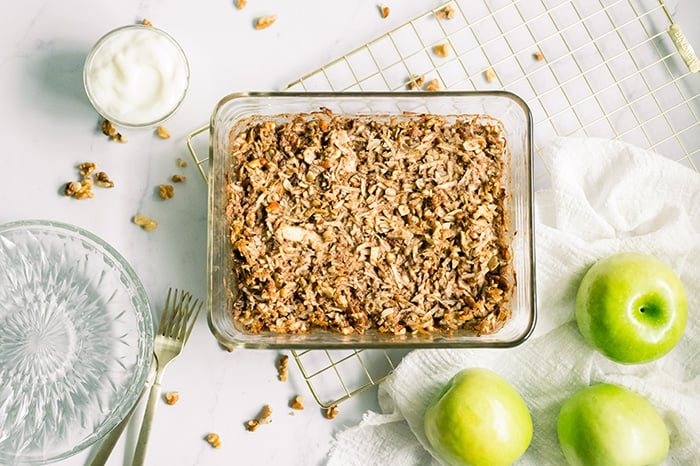 Yield:

6 SERVINGS
Granola Bake (PCOS-Friendly)
Ingredients
Pantry
2 tbsp Flaxseed/Linseed meal
1/2 cup Almonds
1/2 cup Walnuts
1/2 cup Pecans
1/3 cup Coconut flakes
1 tbsp Coconut oil (melted, for toasting nuts)
1/2 Almond milk
2 tbsp Coconut oil (melted, cooled)
1 tbsp Apple pie spice
1 tsp Ground Ceylon cinnamon
1/2 tsp Salt
Fruit
2 Apples (peeled, grated)
Other
Instructions
Mix the flaxseed meal and water in a small bowl and set aside for 10-15 minutes to allow to thicken.
Preheat the oven to 350°F (175°C) and line a baking sheet with parchment paper.
Lay nuts and coconut flakes in a single layer, then drizzle with coconut oil. Roast for 5-7 minutes, then remove and allow to cool.
Increase the oven temperature to 375°F (190°C).
In a food processor or high-powered blender, pulse nuts and coconut to make a crumbly mixture. Take care to not over process it as you'll get an oily mixture.
In a large bowl combine the processed nuts with the grated apples, almond milk, flaxseed mixture, additional coconut oil, spices, and salt. Transfer to a 9" x 9" (25 x 25 cm) baking dish and bake for 35-40 minutes, until the top begins to crisp and brown.
Serve warm, with coconut yogurt.
Nutrition Information:
Yield:
6
Serving Size:
1
Amount Per Serving:
Calories:

335
Total Fat:

29g
Saturated Fat:

9g
Trans Fat:

0g
Unsaturated Fat:

18g
Cholesterol:

0mg
Sodium:

272mg
Carbohydrates:

19g
Fiber:

6g
Sugar:

10g
Protein:

6g
Please note that the nutrition information above isn't always 100% accurate.
Since 2010, Kym Campbell has used evidence-based diet and lifestyle interventions to manage her PCOS. After getting her symptoms under control and falling pregnant naturally, Kym now advocates for dietary change as part of any PCOS treatment plan. Combining rigorous science and clinical advice with a pragmatic approach to habit change, Kym is on a mission to show other women how to take back control of their health and fertility. Read more about Kym and her team here.

Quick Disclosure: Some of the links on this page may be affiliate links. This means that when you use them to purchase something, it won't cost you more but I may get paid a commission for referring you. In order to avoid any prejudice, I only recommend products that I personally use or would have recommended anyways.