Ironically, women with PCOS suffer from painful periods even if they don't get a period.
Fortunately, there are many effective ways to prevent and treat PCOS period pain. A PCOS diet like the one used in my free 30-Day PCOS Diet Challenge is at the top of the list.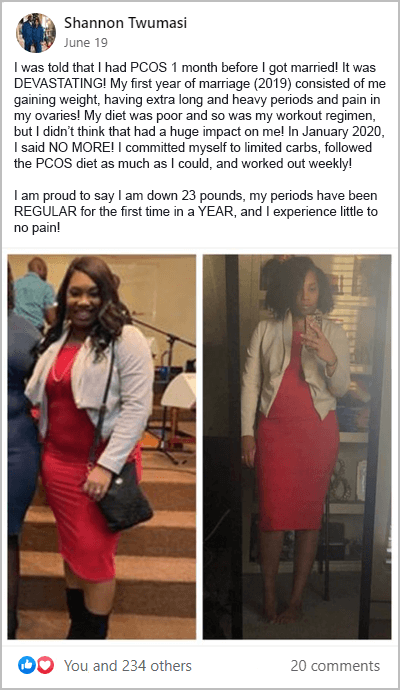 Causes of Painful Periods
Period pain is usually a result of hormone-like compounds causing the muscles and blood vessels of the uterus to contract. These hormone levels are highest on the first day of your period and go down as your uterus sheds its lining. This type of period pain is known as Primary dysmenorrhea and is at its worst before, or during, a heavy bleed. It's also more likely if you have polycystic ovaries [1].
Secondary dysmenorrhea is the name for period pain caused by reproductive organ disorders. This includes things like pelvic inflammatory disease, fibroids, and endometriosis. Endometriosis is a common co-morbidity of PCOS [2-4].
Symptoms of PCOS Period Pain
Abdominal cramps and pelvic pain aren't the only symptoms of a painful period. Back pain, breast tenderness, headaches, muscle pain, and bloating are also very common.
It's important to keep in mind that you can still suffer these symptoms even if you don't get your period. This is because women with PCOS will often have anovulatory cycles.
Common Treatments
Hormonal birth control is the most prescribed treatment for PCOS. It's also often prescribed for women suffering from period pain. Birth control can prevent period pain by fixing the hormone imbalances inherent in PCOS. But the side effects can be significant. As explained in my PCOS birth control article, hormonal birth control depletes nutrients. It can also make PCOS worse while masking its symptoms.
Over-the-counter pain relief is the most common treatment for PCOS period pain. These typically fall into two categories of medicine. Non-steroidal anti-inflammatories like Advil (Neurofen), and acetaminophen products like Tylenol (Panadol). But many people don't like taking these drugs due to legitimate safety concerns [5, 6].
Some people find that heat packs, TENS, or acupuncture are enough to manage period pain. Relaxation, meditation, and gentle exercise can also help with pain relief.
Supplements for Pain Relief
For women concerned about OTC pain relief medication, there are many good alternatives.
As explained in my article on PCOS pain, several herbal medicines have potent effects. For example, a pilot study looked at the curcumin product, Meriva, in patients with a range of chronic pain disorders. They found that a 2-gram dose of Meriva gave comparable pain relief to two Tylenol extra-strength tablets [7].
Other studies have specifically looked at period pain prevention. In one study, 1,000 mg/day of fish oil was better than Advil (Neurofen) for severe period pain [8]. Other trials have supported this finding [9]. Another study found that 25 drops a day of 2% thymus vulgaris essential oil was as effective as an Advil caplet for period pain relief [10].
Among herbal treatment options, fennel appears to be one of the most effective. Many studies have found fennel to be as effective as conventional drug therapies for relieving menstrual pain [11, 12]. Others have shown that cinnamon and ginger are also effective treatments [13].
How To Prevent PCOS Period Pain
The best approach to managing PCOS period pain is to prevent it from happening in the first place. This can be achieved by using nutritional solutions to address the underlying causes of PCOS.
A PCOS diet is foundational to good health for anyone with PCOS. This is especially true for women dealing with menstrual pain. Many past participants from my free 30-Day PCOS Diet Challenge find that diet and exercise alone are enough to overcome a range of health issues.
Nutritional supplements have also proven useful. Vitamins K, D, B1, and E and the minerals calcium, magnesium, and zinc show the most promise for period pain [14]. For the most part, these supplements are affordable additions to a PCOS-friendly diet and lifestyle.
The advice of a naturopathic doctor or functional medicine practitioner is the best way to optimize nutrient status. But for women that want to experiment on their own, vitamin D may be the best place to start. High-dose vitamin D supplementation can reduce the prevalence of both PMS and period pain [15]. And as explained in my article on vitamin D for PCOS, supplementation treats the underlying mechanisms of PCOS.
The Bottom Line
PCOS period pain is a common problem. But it need not be. A PCOS diet and other nutrition-based treatments can prevent painful periods. Nutrients and herbs can also provide alternative pain relief that's as good as common OTC drugs.
Don't put up with PCOS period pain any longer. Join my free 30-Day PCOS Diet Challenge here, or download my free 3-Day PCOS meal plan to get started today.
Author
Combining rigorous science and clinical advice with a pragmatic approach to habit change, Kym is on a mission to show women with PCOS how to take back control of their health and fertility. Read more about Kym and her team here.
References
1Jeong, J.Y., et al., Polycystic ovarian morphology is associated with primary dysmenorrhea in young Korean women. Obstet Gynecol Sci, 2019. 62(5): p. 329-334.
2Hager, M., et al., The Prevalence of Incidental Endometriosis in Women Undergoing Laparoscopic Ovarian Drilling for Clomiphene-Resistant Polycystic Ovary Syndrome: A Retrospective Cohort Study and Meta-Analysis. J Clin Med, 2019. 8(8).
3Singh, K.B., Y.C. Patel, and J. Wortsman, Coexistence of polycystic ovary syndrome and pelvic endometriosis. Obstet Gynecol, 1989. 74(4): p. 650-2.
4Holoch, K.J., et al., Coexistence of Polycystic Ovary Syndrome and Endometriosis in Women with Infertility. Journal of Endometriosis and Pelvic Pain Disorders, 2014. 6(2): p. 79-83.
5Minhas, D., A. Nidhaan, and M.E. Husni, Recommendations for the Use of Nonsteroidal Anti-inflammatory Drugs and Cardiovascular Disease Risk: Decades Later, Any New Lessons Learned? Rheum Dis Clin North Am, 2023. 49(1): p. 179-191.
6Ishitsuka, Y., Y. Kondo, and D. Kadowaki, Toxicological Property of Acetaminophen: The Dark Side of a Safe Antipyretic/Analgesic Drug? Biol Pharm Bull, 2020. 43(2): p. 195-206.
7Di Pierro, F., et al., Comparative evaluation of the pain-relieving properties of a lecithinized formulation of curcumin (Meriva(®)), nimesulide, and acetaminophen. J Pain Res, 2013. 6: p. 201-5.
8Zafari, M., F. Behmanesh, and A. Agha Mohammadi, Comparison of the effect of fish oil and ibuprofen on treatment of severe pain in primary dysmenorrhea. Caspian J Intern Med, 2011. 2(3): p. 279-82.
9Hosseinlou, A., et al., The effects of fish oil capsules and vitamin B1 tablets on duration and severity of dysmenorrhea in students of high school in Urmia-Iran. Glob J Health Sci, 2014. 6(7 Spec No): p. 124-9.
10Salmalian, H., et al., Comparative effect of thymus vulgaris and ibuprofen on primary dysmenorrhea: A triple-blind clinical study. Caspian J Intern Med, 2014. 5(2): p. 82-8.
11Lee, H.W., et al., Fennel for Reducing Pain in Primary Dysmenorrhea: A Systematic Review and Meta-Analysis of Randomized Controlled Trials. Nutrients, 2020. 12(11).
12Shahrahmani, H., et al., Effect of fennel on primary dysmenorrhea: a systematic review and meta-analysis. J Complement Integr Med, 2021. 18(2): p. 261-269.
13Xu, Y., Q. Yang, and X. Wang, Efficacy of herbal medicine (cinnamon/fennel/ginger) for primary dysmenorrhea: a systematic review and meta-analysis of randomized controlled trials. J Int Med Res, 2020. 48(6): p. 300060520936179.
14Saei Ghare Naz, M., et al., The Effect of Micronutrients on Pain Management of Primary Dysmenorrhea: a Systematic Review and Meta-Analysis. J Caring Sci, 2020. 9(1): p. 47-56.
15Bahrami, A., et al., High dose vitamin D supplementation can improve menstrual problems, dysmenorrhea, and premenstrual syndrome in adolescents. Gynecol Endocrinol, 2018. 34(8): p. 659-663.
Combining rigorous science and clinical advice with a pragmatic approach to habit change, Kym is on a mission to show women with PCOS how to take back control of their health and fertility. Read more about Kym and her team here.