How well you eat, all starts at the store. I know there's little chance that I'll resist an unhealthy treat that's calling from the pantry. Likewise, when there's nothing in the house to eat but nourishing food, eating well becomes so much easier.
Start shopping like a PCOS boss with this PCOS Grocery Cheat Sheet.
Or go a step further in your meal planning by downloading this free 3-Day meal plan pdf.
For more meal plans, recipes, and shopping lists, sign-up for my free 30-Day PCOS Diet Challenge. This is a great way to connect with like-minded people.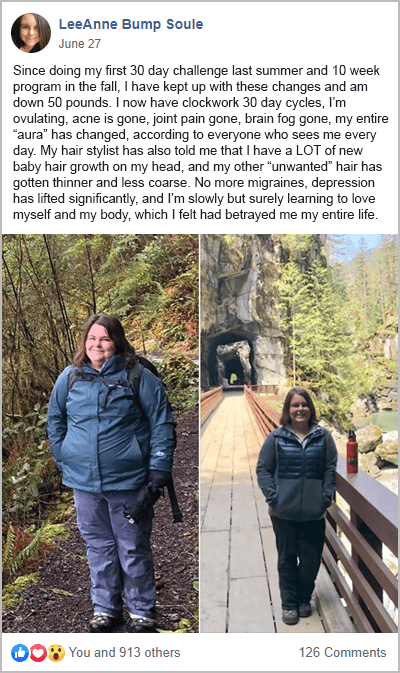 5 Grocery Shopping Tips
Here's what I do to optimize my grocery-shopping process:
Make a meal plan first. Not having a well-thought-out PCOS meal plan for the week ahead is a recipe for trouble. Especially when you're new to a PCOS diet.
Stick to whole foods. You can get almost everything you need by walking around the outer isles of the grocery store. Avoid all those rows of processed foods, including the "health-food" aisle. There's just too much sugar and temptation.
Buy bulk. It's sad but true that eating healthy can be more expensive. Buying in bulk can offset these costs. It can also come in handy in the event of a local emergency or supply-chain disruptions.
Buy frozen vegetables. They're cheaper and are often more nutritious than fresh vegetables. This is because they're picked and packed at their peak ripeness when nutrient levels are highest.
Use the internet. You have more options and can often get better prices when you shop online. Thrive Market or Misfit Markets are great places to start. For the best quality meat and seafood, there are many great stores. Try US Wellness Meats, Crowd Cow, Cooks Venture, Omaha Steaks, or Greensbury. Online grocery shopping is especially good for bulk buying canned goods, olive oil, nuts, seeds, and PCOS snacks.
What to Include in Your PCOS Grocery List
In my PCOS diet article, I summarize the foods to eat and the foods to avoid with PCOS. This informs what should (and shouldn't) be on your PCOS grocery list. Combining these foods to achieve the best macros for PCOS is key to beating PCOS for good.
The lists below will help guide your shopping adventures. For a more comprehensive PCOS grocery list download this cheat sheet. It'll fit nicely on your fridge.
Protein
Increasing protein in your diet is a powerful step for treating PCOS. It's especially helpful for fighting insulin resistance and for PCOS weight loss. High-fat animal sources of protein are best, but plant-based PCOS protein powder can be useful too.
Buy:
Eggs
Meat
Fish and seafood
Protein powder
Low GI Carbohydrate-Rich Foods
Carbohydrate-rich foods that have a low glycemic index are an important part of a PCOS-friendly diet. Consuming these foods in modest amounts helps with cravings and is good for gut health.
Buy:
Quinoa
Black/red/wild rice
Peas and beans
Root vegetables
Non-Starchy Vegetables
Non-starchy vegetables should take up at least half of your plate. These provide fiber, micronutrients, and antioxidants that support good health.
Buy:
Spinach, Swiss chard, and Romaine lettuce
Broccoli, cauliflower, Brussels sprouts, cabbage, and kale
Squash, cucumber, and zucchini
Bell peppers, tomatoes, and eggplant
For organic vegetables, at the best price, consider signing up with Misfit Markets.
Fats and Oils
Use plenty of healthy fats and oils when cooking or making dressings. This is an easy way to achieve a high-fat, low-carb diet. A good PCOS yogurt is also very helpful.
Buy:
PCOS yogurt
Olive oil
Coconut oil
Avocado oil
Nuts and Seeds
Nuts and seeds have a long list of health benefits. This is one of the least controversial foods that should be eaten more by people with PCOS.
Buy:
Almond
Pistachios
Walnuts
Flaxseeds
Chia seeds
Fruits
Fruits have an unnecessarily complicated place in a PCOS diet. It might be better to buy fruits with a lower glycemic index. But when you follow my fruits for PCOS hacks, any fruit can be on your PCOS grocery shopping list.
Probiotic Foods
These foods contain live cultures of bacteria. Probiotic foods help promote a healthy gut microbiome. Fostering better gut health is an essential PCOS natural treatment.
Buy:
PCOS yogurt
Fermented vegetables like sauerkraut and kimchi
Miso, natto, and tempeh
Sauces, Condiments, Herbs, and Spices
When buying sauces and condiments, look for low-sugar products. You also want to avoid vegetable oils and instead choose products that use avocado oil or olive oil. It's better to make your sauces and condiments from scratch. But Primal Kitchen has nice products that fit well with PCOS diet principles.
When it comes to herbs and spices, the more the merrier.
Buy:
Lemons, limes, and apple cider vinegar (for making your own dressings)
Tamari sauce and sriracha sauce
Onion powder and garlic powder
Dried herbs and spices
Flours
As explained in my article on gluten and PCOS, people with PCOS should use gluten-free flour products.
Buy:
Almond meal and/or almond flour (blanched)
Coconut flour
Buckwheat flour
Corn starch
Sweeteners
Adapting to a low-sugar diet is one of the most important aspects of a good PCOS diet. When treating yourself to PCOS dessert recipes use fructose-free sweeteners.
Buy:
Dextrose powder, corn syrup, or brown rice syrup
Monkfruit or stevia leaf extract
Bocha Sweet
Drinks
There are many good PCOS drinks and substitutes. These avoid sugar, dairy, alcohol, and caffeine. PCOS smoothie recipes and different types of PCOS tea are especially good for supporting better health.
Buy:
Sparkling water
Spearmint tea and other herbal teas
Unsweetened nut milk and non-dairy creamers like Nutpods.
Hone also makes a great PCOS drink using matcha and cordyceps mushrooms.
Learn more about the pros and cons of coffee for PCOS here.
The Bottom Line
Following a PCOS diet is a rewarding act of self-care. It's how you beat PCOS for good. But it's also difficult. You need to plan ahead and shop carefully.
Resources like this free PCOS Grocery List Cheat Sheet are meant to make shopping a little easier.
For more help, join my free 30-Day PCOS Diet Challenge or download this free 3-Day Meal Plan. Here are some success stories to show you what's possible.
Author
Combining rigorous science and clinical advice with a pragmatic approach to habit change, Kym is on a mission to show women with PCOS how to take back control of their health and fertility. Read more about Kym and her team here.
Combining rigorous science and clinical advice with a pragmatic approach to habit change, Kym is on a mission to show women with PCOS how to take back control of their health and fertility. Read more about Kym and her team here.