This post was updated on March 5th, 2023

During my free 30-Day PCOS Diet Challenge I often get asked about dessert recipes for PCOS. While I don't include sweet treats in my meal plans, I do understand the importance of having these options available. I personally love being able to bring something like these cookies along to a party so I don't feel left out, and I find there's usually at least one other person there who is thankful for the healthier treat!
When coming up with new recipes I like to include ingredients that have additional health benefits, and these delicious ginger cookies have a lot going for them from a PCOS perspective:
Ginger root contains prebiotic compounds that feed our healthy gut bacteria.
Ceylon cinnamon has a small but significant benefit in helping to regulate our blood sugar levels (Allen et al. 2013).

Butter is a great source of both medium-chain fatty acids, which help reduce body fat (Mumme and Stonehouse 2015), as well as conjugated linoleic acids, which are good for your heart (Mooney et al. 2012).
Here's everything you'll need to make these PCOS-friendly Ginger Cookies:
Eggs
Almond meal
Coconut flour
Salt
Rice malt syrup
Ground Ceylon cinnamon
Ginger powder
Ground cloves
Baking powder
Orange zest
Vanilla extract
Ghee
This recipe does, however, contain a bit more glucose compared to many of my other recipes, so enjoy this treat in moderation. Try adding less sweetener as your taste buds become more sensitive to sweetness over time.
xo Kym
P.S. If you are struggling to make the switch to a PCOS diet, I run a free 30-Day PCOS Diet Challenge every quarter which is the perfect way to really kickstart your health transformation. This live event includes weekly meal plans, recipes, shopping lists, and video lessons, all within a supportive community environment. However, if this recipe has inspired you and you want to get started right away, then I recommend downloading my free 3-Day PCOS Diet Meal Plan as well. It's a 15-page PDF ebook that contains some of my most popular PCOS recipes, a shopping list ready to go, and some additional information about how to use food to heal your PCOS.
If you're looking to try a new PCOS dessert recipe, give these ginger cookies a go!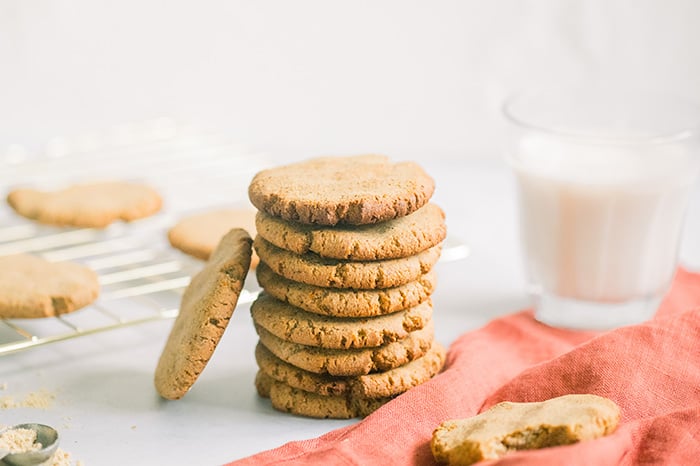 Yield:

16 SERVINGS
Ginger Cookies (PCOS-Friendly)
Total Time:
2 hours
25 minutes
I personally love being able to bring something like these cookies along to a party so I don't feel left out, and I find there's usually at least one other person there who is thankful for the healthier treat!
Ingredients
Protein
Pantry
2.5 cup Almond meal
1/4 cup Coconut flour
1/2 tsp Salt
1/2 cup Rice malt syrup
1 tsp Ground Ceylon cinnamon
1 tbsp Ginger powder
1 tsp Ground cloves
1 tsp Baking powder
1 tbsp Orange zest
1 tsp Vanilla extract
4 tbsp Ghee
Instructions
In a food processor, pulse together the almond meal, coconut flour, salt, spices and baking powder.
Add in the remaining ingredients and pulse until the dough forms a ball.
Wrap the dough in plastic wrap and refrigerate for 2 hours.
When ready to bake, preheat oven to 180°C/350°C and line a baking sheet with parchment paper.
Roll the dough into small balls, and squash flat into approximately 16 cookies.
Bake for around 15 minutes or until the edges are golden brown.
Nutrition Information:
Yield:
16
Serving Size:
1
Amount Per Serving:
Calories:

156
Total Fat:

13g
Saturated Fat:

3g
Trans Fat:

0g
Unsaturated Fat:

9g
Cholesterol:

20mg
Sodium:

110mg
Carbohydrates:

8g
Fiber:

3g
Sugar:

2g
Protein:

5g
Please note that the nutrition information above isn't always 100% accurate.
Since 2010, Kym Campbell has used evidence-based diet and lifestyle interventions to manage her PCOS. After getting her symptoms under control and falling pregnant naturally, Kym now advocates for dietary change as part of any PCOS treatment plan. Combining rigorous science and clinical advice with a pragmatic approach to habit change, Kym is on a mission to show other women how to take back control of their health and fertility. Read more about Kym and her team here.
References:
Allen, Robert W.; Schwartzman, Emmanuelle; Baker, William L.; et al. Cinnamon Use in Type 2 Diabetes: An Updated Systematic Review and Meta-Analysis. ANNALS OF FAMILY MEDICINE, 2013.
Mooney, Declan; McCarthy, Cathal; Belton, Orina. Effects of conjugated linoleic acid isomers on monocyte, macrophage and foam cell phenotype in atherosclerosis PROSTAGLANDINS & OTHER LIPID MEDIATORS, 2012.
Mumme, Karen; Stonehouse, Welma. Effects of Medium-Chain Triglycerides on Weight Loss and Body Composition: A Meta-Analysis of Randomized Controlled Trials. JOURNAL OF THE ACADEMY OF NUTRITION AND DIETETICS, 2015.

Quick Disclosure: Some of the links on this page may be affiliate links. This means that when you use them to purchase something, it won't cost you more but I may get paid a commission for referring you. In order to avoid any prejudice, I only recommend products that I personally use or would have recommended anyways.