This post was updated on March 5th, 2023

There's always a bit of hesitation from some participants during my free 30-Day PCOS Diet Challenge when they have a look at the breakfast meal plan. While I do include some more "typical" breakfast recipe options, I try to focus on teaching women to learn to enjoy meat and veg in the mornings. I was once one of those people that struggled to wrap my head around that idea too, believe it or not!
I really want to encourage you to try eating more meaty breakfasts as part of your regular routine, because, in my experience, this is one of the best dietary changes to make for improving blood glucose regulation. This is essential for weight loss and improving hormone regulation.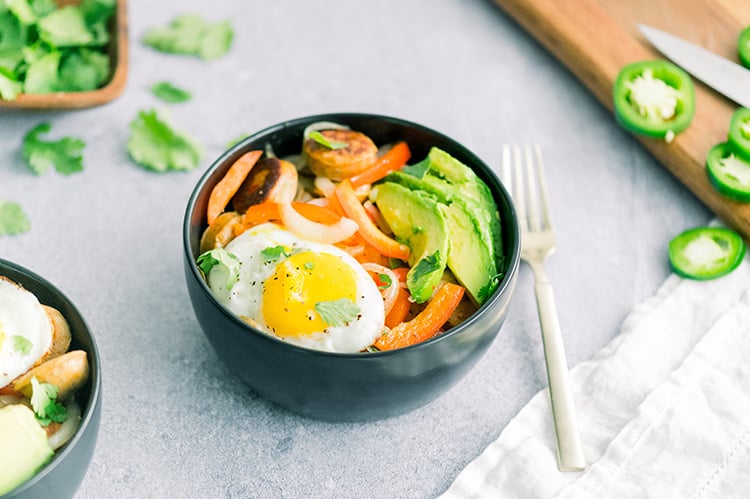 Here's everything you'll need to make this PCOS-friendly Breakfast Burrito Bowl:
Chicken sausage
Eggs
Coconut oil
Salt
Black pepper
Onion powder
Garlic powder
Chili powder
Cauliflower
Jalapeño
Red bell peppers
Onions
Fresh cilantro/coriander
Lime juice
Avocado
This is the kind of meal that totally contradicts the idea that eating healthy comes at the cost of deliciousness. I'm pretty sure that once you try this, you'll want it for lunch and dinner too.
xo Kym
P.S. If you are struggling to make the switch to a PCOS diet, I run a free 30-Day PCOS Diet Challenge every quarter which is the perfect way to really kickstart your health transformation. This live event includes weekly meal plans, recipes, shopping lists, and video lessons, all within a supportive community environment. However, if this recipe has inspired you and you want to get started right away, then I recommend downloading my free 3-Day PCOS Diet Meal Plan as well. It's a 15-page PDF ebook that contains some of my most popular PCOS recipes, a shopping list ready to go, and some additional information about how to use food to heal your PCOS.
Start your day the right way with this nutritious, blood-sugar-happy PCOS breakfast recipe!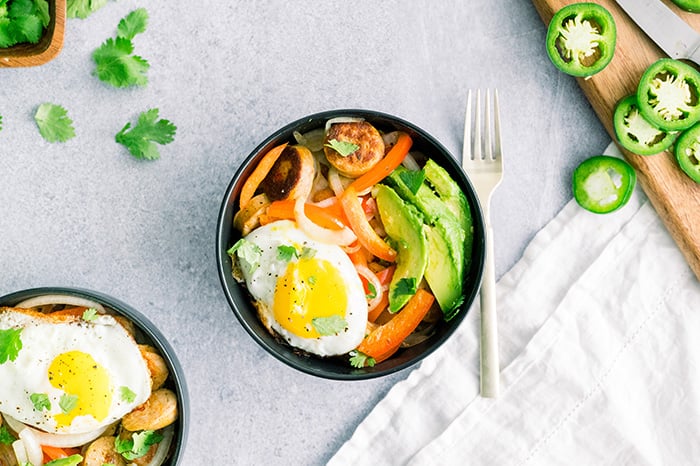 Yield:

4 SERVINGS
Breakfast Burrito Bowl (PCOS-Friendly)
This is the kind of meal that totally contradicts the idea that eating healthy comes at the cost of deliciousness. I'm pretty sure that once you try this, you'll want it for lunch and dinner too.
Ingredients
Protein
12 oz Chicken sausage (cut into bite-sized pieces)
4 Eggs
Pantry
4 tbsp Coconut oil
1/2 tsp Salt
1/8 tsp Black pepper
1/2 tsp Onion powder
1/2 tsp Garlic powder
1/4 tsp Chili powder
Vegetables
4 cups Cauliflower (riced)
1 tbsp Jalapeño (minced)
1 Red bell pepper (thinly sliced)
1 Onion (thinly sliced)
4 tbsp Fresh cilantro/coriander (minced)
Fruit
2 tsp Lime juice
1 Avocado (sliced)
Instructions
Heat a large skillet over medium heat, and add a generous amount of coconut oil. Stir in the riced cauliflower to coat, then cook for 2 minutes, stirring occasionally.
Add jalapeño peppers, salt, pepper, onion powder, garlic powder, chili powder, and lime juice. Cook for another minute or two.
In a separate skillet, heat a generous amount of coconut oil over medium heat and cook sausage pieces until golden brown.
Add the red bell peppers and onions and cook until soft. Season with salt and pepper taste.
Cook eggs to your liking.
Divide the cauliflower rice and top with sausage, pepper, onions, and eggs.
Finish it all off with some sliced avocado, cilantro, and the juice from the remaining lime.
Nutrition Information:
Yield:
4
Serving Size:
1
Amount Per Serving:
Calories:

491
Total Fat:

35g
Saturated Fat:

16g
Trans Fat:

0g
Unsaturated Fat:

15g
Cholesterol:

264mg
Sodium:

957mg
Carbohydrates:

15g
Fiber:

7g
Sugar:

6g
Protein:

31g
Please note that the nutrition information above isn't always 100% accurate.
Since 2010, Kym Campbell has used evidence-based diet and lifestyle interventions to manage her PCOS. After getting her symptoms under control and falling pregnant naturally, Kym now advocates for dietary change as part of any PCOS treatment plan. Combining rigorous science and clinical advice with a pragmatic approach to habit change, Kym is on a mission to show other women how to take back control of their health and fertility. Read more about Kym and her team here.

Quick Disclosure: Some of the links on this page may be affiliate links. This means that when you use them to purchase something, it won't cost you more but I may get paid a commission for referring you. In order to avoid any prejudice, I only recommend products that I personally use or would have recommended anyways.