Key Takeaways

Saw palmetto can treat polycystic ovarian syndrome because it has anti-androgenic properties. But the benefits of saw palmetto for PCOS are not well-proven.

There are many herbs and other dietary supplements that are more effective.

People use Saw palmetto to treat polycystic ovary syndrome (PCOS). But this herb hasn't been well-studied in clinical trials. A scientific understanding of the benefits of saw palmetto for PCOS is based on mechanistic knowledge about how it works.
This article reviews the benefits of saw palmetto for PCOS and provides guidance on how to take it.
As you'll discover, there are many better ways to treat PCOS. Nothing beats dietary change as participants from my free 30-Day PCOS Diet Challenge show.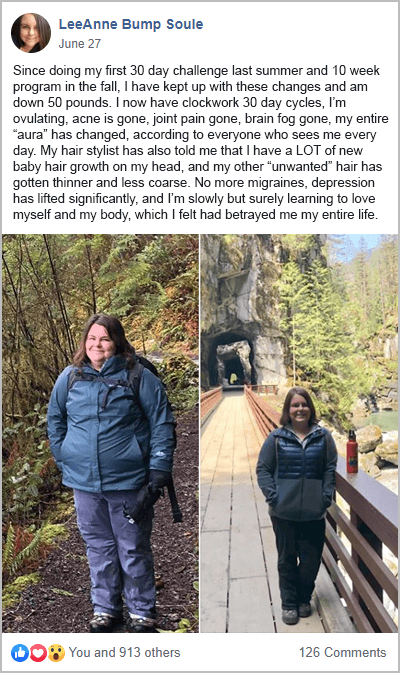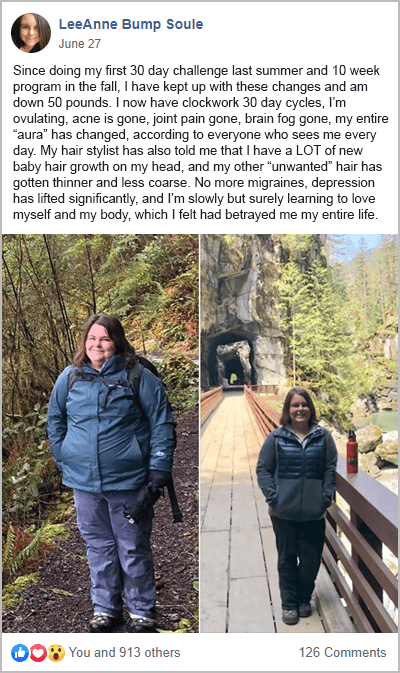 Benefits of Saw Palmetto for PCOS
PCOS symptoms result from hormone imbalances like elevated testosterone levels [1, 2]. These androgenic, male hormones cause a wide range of symptoms including:
Thinning hair, hair loss, and male pattern baldness
Excess body hair, and facial hair growth
Oily skin
Irregular periods
Saw palmetto is given to women with PCOS because it can reduce excess androgens. Like many other plant-derived anti-androgens, it's assumed it will help reduce symptoms.
The mechanism by which this herbal medicine reduces excess testosterone levels is understood. But there are no placebo-controlled trials in PCOS patients showing noticeable benefits. At least at the time of writing.
This means that any potential benefits of saw palmetto for PCOS are based on clinical experience only.
Summary
Saw palmetto may help with PCOS-related hormonal imbalances. This can improve excessive body hair growth, menstrual irregularities, and more.
What the Science Says
Most research on saw palmetto is for the treatment of benign prostatic hyperplasia (BHP). BHP is a noncancerous growth of the prostate. It only affects males making the research of limited value for treating polycystic ovary syndrome. Even so, most studies conducted to date have not found a consistent or compelling benefit [3-5].
Saw palmetto has also been studied for male androgenic alopecia where it's shown modest potential [6-8]. But other treatments like dutasteride, finasteride, and minoxidil appear to be more effective [9-11].
As a treatment for female hair loss, saw palmetto is most promising when combined with other dietary supplements. For example, Nutrafol is a hair growth supplement that contains 21 phyto-compounds. Its ingredients include saw palmetto, ashwagandha, curcumin, palm extract, amino acids, and more. Nutrafol appears to improve hair growth [12, 13]. But because it's a complex mixture of ingredients, studies of this product say nothing about the effectiveness of saw palmetto.
Given the plethora of treatments for hair loss, it seems hard to make a compelling argument in favor of saw palmetto. This review explores treatment options for androgenic alopecia offered by both conventional medicine and complementary medicine.
Summary
There's a lack of clinical trial data supporting the use of Saw palmetto among women with PCOS. Even beyond PCOS, Saw palmetto appears inferior to alternative treatments.
Saw Palmetto PCOS Side Effects
Adverse events associated with saw palmetto were scientifically reviewed in 2009. They found that in the trials reviewed, saw palmetto was well-tolerated with few adverse effects [14].
The most common side effects were abdominal pain, diarrhea, nausea, fatigue, headache, decreased libido, and rhinitis.
There were isolated cases of more serious events such as death and cerebral hemorrhage. But it seems unlikely that this was caused by the saw palmetto.
No drug interactions were reported.
There haven't been any studies looking at the safety of saw palmetto during pregnancy or while breastfeeding. Given it has the potential to affect hormone levels though, it's best avoided under these circumstances.
Summary
Saw palmetto is generally well-tolerated with minimal side effects. But it's best avoided when pregnant or breastfeeding.
Alternative Anti-Androgen Treatments
For women with PCOS, there are much better herbal treatments than saw palmetto. Learn more about the best herbs for PCOS here.
If you specifically want a herbal remedy with anti-androgenic effects, there are many to choose from. Spearmint tea and green tea are cheap and effective places to start. Other evidence-based herbs for androgen excess include red reishi, licorice root, Chinese peony, and others [15, 16].
If you're specifically looking to treat PCOS acne, you're better off with these solutions.
Anti-androgenic herbs, like saw palmetto, may help on the margins. But if you want to see life-changing results, then there's something much more important you must do.
Summary
There are many alternatives to Saw palmetto for PCOS women. Other anti-androgen herbs include spearmint, green tea, red reishi, licorice, peony, and more.
Why Diet Outshines All Other PCOS Treatments
Anti-androgens are used to treat PCOS because excess androgens are one of the underlying causes of PCOS.
But a treatment that focuses only on androgens isn't going to succeed.
All PCOS symptoms are caused by a combination of excess androgens, inflammation, and insulin resistance [1, 17-21]. The gut microbiome is dysregulated in PCOS and this has a causal effect on symptoms [22, 23]. A poor diet makes everything worse [24].
It's well-known that androgen production in women with PCOS is linked to insulin resistance [1, 2]. If you want to lower androgens, you need to improve insulin sensitivity. This is best achieved through a healthy diet that helps better manage your blood sugar levels.
A good PCOS diet can reverse insulin resistance. But it also improves gut health. This is about avoiding foods that are harmful to PCOS. And eating more good whole foods with anti-inflammatory properties.
Adapting to a PCOS diet can be confusing and overwhelming. There's also a lot of conflicting information that makes it difficult for busy people to get the quick answers they need.
That's why I created my free 30-Day PCOS Diet Challenge and this free 3-Day Meal Plan. These are the perfect place to start for anyone new to a PCOS diet. During the 30-Day Challenge, you'll start seeing the results for yourself.
A PCOS diet provides an essential foundation for managing PCOS. But dietary supplements can enhance these benefits. Learn more about the best PCOS supplements here.
Summary
A PCOS diet and other dietary supplements can better target the underlying mechanisms that cause PCOS.
The Bottom Line
Experienced naturopathic and functional medicine doctors use Saw palmetto for treating PCOS. But the clinical benefits of this intervention have not been proven in scientific trials. The mechanism of action is understood. But we don't know that this translates into noticeable benefits for patients.
There are many better herbs and supplements for treating PCOS.
Switching to a PCOS diet is also much more effective than Saw palmetto extract. Discover this for yourself by joining my next free 30-Day PCOS Diet Challenge. Or download this free 3-Day Meal Plan for a sample of PCOS recipes.
FAQ
Should I take saw palmetto for PCOS weight loss? Saw palmetto is not known to support weight loss in PCOS women. Learn more about how to lose weight with PCOS here.
Does saw palmetto work for PCOS? There's insufficient evidence to show that saw palmetto is an effective treatment for PCOS. This doesn't mean that it doesn't work. There just isn't evidence to show that it does.
But I've seen many Saw palmetto success stories with PCOS. How do you explain these? It's possible that for some women, Saw palmetto on its own may improve PCOS symptoms. Often though, people take saw palmetto alongside other treatments. This makes it difficult to assign any health or fertility improvement to the saw palmetto intervention. Teasing apart the benefits of a single treatment requires well-designed scientific trials.

What's the typical saw palmetto dosage for PCOS? There's no single recommended dosage of saw palmetto for PCOS. But typical doses range from 160 to 450 mg of saw palmetto extract per day. It's recommended that you start on a low dose and work your way up over time.
Author
Combining rigorous science and clinical advice with a pragmatic approach to habit change, Kym is on a mission to show women with PCOS how to take back control of their health and fertility. Read more about Kym and her team here.

Quick Disclosure: Some of the links on this page may be affiliate links. This means that when you use them to purchase something, it won't cost you more but I may get paid a commission for referring you. In order to avoid any prejudice, I only recommend products that I personally use or would have recommended anyways.
References
1Wang, J., et al., Hyperandrogenemia and insulin resistance: The chief culprit of polycystic ovary syndrome. Life Sciences, 2019. 236.
2Zeng, X., et al., Polycystic ovarian syndrome: Correlation between hyperandrogenism, insulin resistance and obesity. Clin Chim Acta, 2020. 502: p. 214-221.
3Csikós, E., et al., Treatment of Benign Prostatic Hyperplasia by Natural Drugs. Molecules, 2021. 26(23).
4Franco, J.V., et al., Serenoa repens for the treatment of lower urinary tract symptoms due to benign prostatic enlargement. Cochrane Database Syst Rev, 2023. 6(6): p. Cd001423.
5Kwon, Y., Use of saw palmetto (Serenoa repens) extract for benign prostatic hyperplasia. Food Sci Biotechnol, 2019. 28(6): p. 1599-1606.
6Prager, N., et al., A randomized, double-blind, placebo-controlled trial to determine the effectiveness of botanically derived inhibitors of 5-alpha-reductase in the treatment of androgenetic alopecia. J Altern Complement Med, 2002. 8(2): p. 143-52.
7Wessagowit, V., et al., Treatment of male androgenetic alopecia with topical products containing Serenoa repens extract. Australas J Dermatol, 2016. 57(3): p. e76-82.
8Gupta, A.K., M. Talukder, and M.A. Bamimore, Natural products for male androgenetic alopecia. Dermatol Ther, 2022. 35(4): p. e15323.
9Arif, T., et al., Dutasteride in Androgenetic Alopecia: An Update. Curr Clin Pharmacol, 2017. 12(1): p. 31-35.
10Boersma, I.H., et al., The effectiveness of finasteride and dutasteride used for 3 years in women with androgenetic alopecia. Indian J Dermatol Venereol Leprol, 2014. 80(6): p. 521-5.
11Rossi, A., et al., Comparitive effectiveness of finasteride vs Serenoa repens in male androgenetic alopecia: a two-year study. Int J Immunopathol Pharmacol, 2012. 25(4): p. 1167-73.
12Ablon, G. and S. Kogan, A Six-Month, Randomized, Double-Blind, Placebo-Controlled Study Evaluating the Safety and Efficacy of a Nutraceutical Supplement for Promoting Hair Growth in Women With Self-Perceived Thinning Hair. J Drugs Dermatol, 2018. 17(5): p. 558-565.
13Stephens, T.J., et al., A Prospective Six-month Single-blind Study Evaluating Changes in Hair Growth and Quality Using a Nutraceutical Supplement in Men and Women of Diverse Ethnicities. J Clin Aesthet Dermatol, 2022. 15(1): p. 21-26.
14Agbabiaka, T.B., et al., Serenoa repens (saw palmetto): a systematic review of adverse events. Drug Saf, 2009. 32(8): p. 637-47.
15Grant, P. and S. Ramasamy, An update on plant derived anti-androgens. Int J Endocrinol Metab, 2012. 10(2): p. 497-502.
16Dhariwala, M.Y. and P. Ravikumar, An overview of herbal alternatives in androgenetic alopecia. J Cosmet Dermatol, 2019. 18(4): p. 966-975.
17Carvalho, L.M.L., et al., Polycystic Ovary Syndrome as a systemic disease with multiple molecular pathways: a narrative review. Endocr Regul, 2018. 52(4): p. 208-221.
18González, F., Inflammation in Polycystic Ovary Syndrome: underpinning of insulin resistance and ovarian dysfunction. Steroids, 2012. 77(4): p. 300-5.
19González, F., et al., Hyperandrogenism sensitizes mononuclear cells to promote glucose-induced inflammation in lean reproductive-age women. Am J Physiol Endocrinol Metab, 2012. 302(3): p. E297-306.
20Popovic, M., G. Sartorius, and M. Christ-Crain, Chronic low-grade inflammation in polycystic ovary syndrome: is there a (patho)-physiological role for interleukin-1? Seminars in Immunopathology, 2019. 41(4): p. 447-459.
21Rudnicka, E., et al., Chronic Low Grade Inflammation in Pathogenesis of PCOS. Int J Mol Sci, 2021. 22(7).
22Tremellen, K. and K. Pearce, Dysbiosis of Gut Microbiota (DOGMA)–a novel theory for the development of Polycystic Ovarian Syndrome. Med Hypotheses, 2012. 79(1): p. 104-12.
23He, F.F. and Y.M. Li, Role of gut microbiota in the development of insulin resistance and the mechanism underlying polycystic ovary syndrome: a review. J Ovarian Res, 2020. 13(1): p. 73.
24Barrea, L., et al., Source and amount of carbohydrate in the diet and inflammation in women with polycystic ovary syndrome. Nutr Res Rev, 2018. 31(2): p. 291-301.
Combining rigorous science and clinical advice with a pragmatic approach to habit change, Kym is on a mission to show women with PCOS how to take back control of their health and fertility. Read more about Kym and her team here.