At the time of writing this blog, we're in the midst of the holiday season, and I know that many of the women participating in my free 30-Day PCOS Diet Challenge would appreciate an additional snack recipe for this time of year!
Regardless of your holiday traditions, I figured there was always room for a PCOS-friendly snack for when the family gets together. While you can expect some skepticism at the suggestion of chips made entirely from zucchini, the result is typically a pleasant surprise. Find more snack ideas in my list of PCOS-friendly recipes.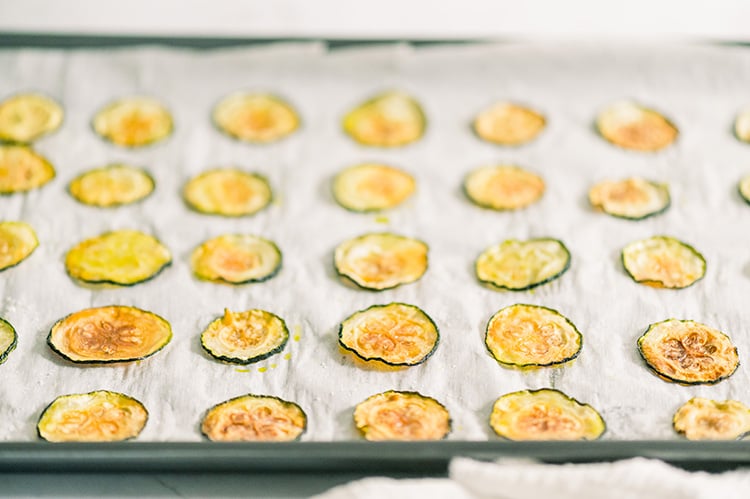 Here's everything you'll need to make these healthy Zucchini Chips:
We love these chips in my household, so I hope you will too.
xo Kym
P.S. If you are struggling to make the switch to a PCOS diet, I run a free 30-Day PCOS Diet Challenge every quarter which is the perfect way to really kickstart your health transformation. This live event includes weekly meal plans, recipes, shopping lists, and video lessons, all within a supportive community environment. However, if this recipe has inspired you and you want to get started right away, then I recommend downloading my free 3-Day PCOS Diet Meal Plan as well. It's a 15-page PDF ebook that contains some of my most popular PCOS recipes, a shopping list ready to go, and some additional information about how to use food to heal your PCOS.
This is the perfect PCOS snack recipe to share with friends and family!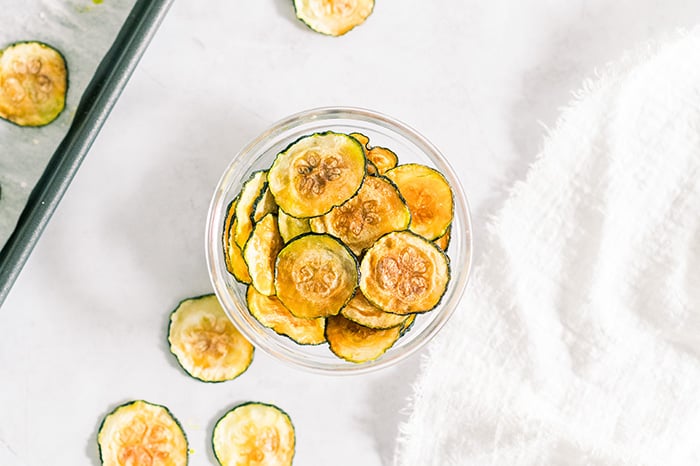 Yield:

2 SERVINGS
Zucchini Chips (PCOS-Friendly)
Cook Time:
2 hours
30 minutes
Additional Time:
30 minutes
Total Time:
3 hours
10 minutes
While you can expect some skepticism at the suggestion of chips made entirely from zucchini, the result is typically a pleasant surprise.
Ingredients
Pantry
1 tbsp Olive oil
1 tsp Salt
Vegetable
Instructions
Preheat the oven to 200°F (100°C) and line two baking sheets with parchment paper. Make sure to use parchment paper for this recipe as it helps the chips to get crispy on the bottom.
Thinly slice the zucchini to approximately 1/16 – 1/8" (1.5 – 3 mm) thick. This is a piece of cake with a mandolin slicer, but you can do it with a sharp knife too if you're patient and careful.
Place the zucchini in a bowl, drizzle with olive oil, then gently toss to coat.
Place the disks closely together (but not touching) on the baking sheets. Sprinkle with salt to taste and add any other seasonings you'd like to try. While plain salted zucchini chips are great, some other nice combinations include smoked paprika, garlic, and marjoram; cumin, coriander, and chili powder; or basil, oregano, and red pepper flakes. Keep in mind that the seasonings will become more concentrated when the zucchini shrinks in the oven, so you only need a light sprinkle.
Place in the oven and bake for 2-2 ½ hours until crisp and golden. Once done, turn the heat off, and prop open the oven door. Allow the zucchini to cool in the warm oven for another 30 minutes.
Enjoy by themselves or with your favorite dip.
The chips should keep for up to 3 days in a zip lock bag, but they're likely to soften during this time. I doubt you'll have any trouble getting through them though.
Nutrition Information:
Yield:
2
Serving Size:
1
Amount Per Serving:
Calories:

90
Total Fat:

7g
Saturated Fat:

1g
Trans Fat:

0g
Unsaturated Fat:

6g
Cholesterol:

0mg
Sodium:

1169mg
Carbohydrates:

5g
Fiber:

2g
Sugar:

3g
Protein:

2g
Please note that the nutrition information above isn't always 100% accurate.

Quick Disclosure: Some of the links on this page may be affiliate links. This means that when you use them to purchase something, it won't cost you more but I may get paid a commission for referring you. In order to avoid any prejudice, I only recommend products that I personally use or would have recommended anyways.
Combining rigorous science and clinical advice with a pragmatic approach to habit change, Kym is on a mission to show women with PCOS how to take back control of their health and fertility. Read more about Kym and her team here.