This post was updated on March 5th, 2023

One thing there isn't a lot of in my free 30-Day PCOS Diet Challenge is seafood recipes, so I'd like to share this one with you that you're welcome to use to replace any of the dinners in the meal plan!
This fairly simple one-pan dish takes a Mediterranean style but includes the richness of coconut milk to boost the fat content while also adding a creamy mouthfeel.
If you have access to halibut, this fish is a great choice for this recipe.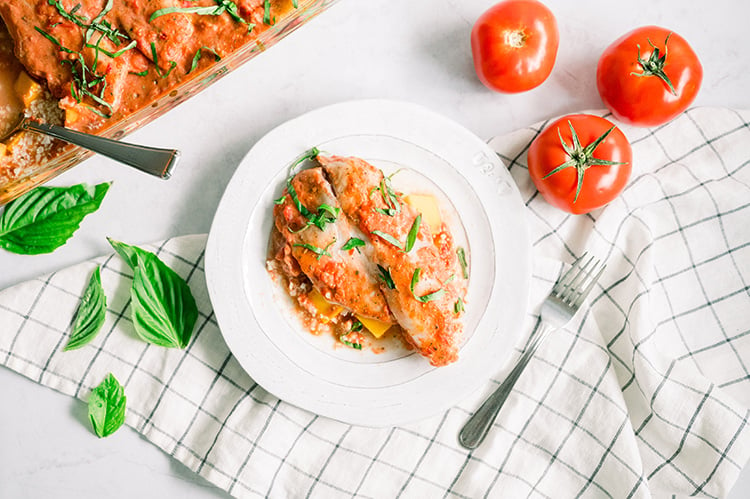 Here's everything you'll need to make this PCOS-Friendly Baked Fish recipe:
Fish fillet
Canned crushed tomatoes
Canned coconut milk
Dried oregano
Dried basil
Red pepper flakes
Salt
Pepper
Garlic
Cauliflower
Tomatoes
Butternut squash
Fresh basil
While this meal is complete on its own, the carb count is relatively low since butternut squash is the only ingredient that's somewhat starchy. This makes it not only great for the pescatarians amongst us, but it's also a great dish for women with insulin resistance. If you're sharing with others or wanted more carbs, a bit of quinoa on the side would go really well with this.
xo Kym
P.S. If you are struggling to make the switch to a PCOS diet, I run a free 30-Day PCOS Diet Challenge every quarter which is the perfect way to really kickstart your health transformation. This live event includes weekly meal plans, recipes, shopping lists, and video lessons, all within a supportive community environment. However, if this recipe has inspired you and you want to get started right away, then I recommend downloading my free 3-Day PCOS Diet Meal Plan as well. It's a 15-page PDF ebook that contains some of my most popular PCOS recipes, a shopping list ready to go, and some additional information about how to use food to heal your PCOS.
This one-pan meal checks all the boxes for a healthy PCOS dinner recipe!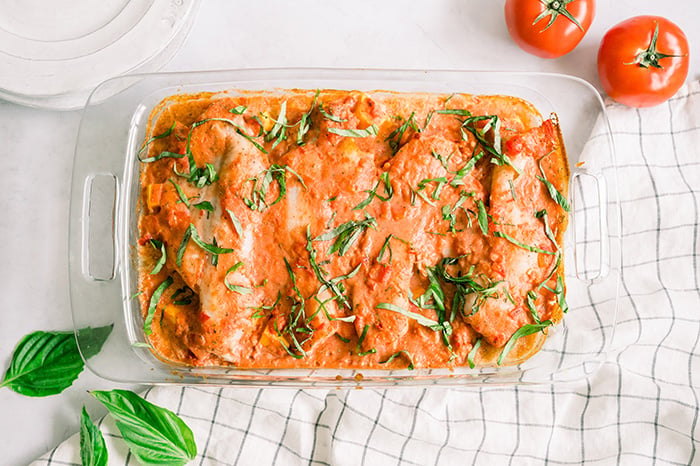 Yield:

4 SERVINGS
Creamy Tomato Baked Fish (PCOS-Friendly)
This fairly simple one-pan dish takes a Mediterranean style but includes the richness of coconut milk to boost the fat content while also adding a creamy mouthfeel.
Ingredients
Protein
Pantry
28 oz Canned crushed tomatoes
3/4 cup Canned coconut milk
1 tsp Dried oregano
1 tsp Dried basil
1/2 tsp Red pepper flakes
1 tsp Salt
1/2 tsp Black pepper
Vegetable
1 tsp Garlic (minced)
5 cup Cauliflower (riced)
2 Tomatoes (sliced 1/4" thick)
2 cup Butternut squash (diced into 1/2" cubes)
1/2 cup Fresh basil
Instructions
Preheat the oven to 425°F (220°C).
In a large bowl, combine the crushed tomatoes, coconut milk, garlic, oregano, dried basil, red pepper flakes, salt, and pepper. Mix well.
Either in a microwave or on a stove top, pre-cook the riced cauliflower for 5 minutes.
Add the cooked riced cauliflower to a cheesecloth or nut milk bag, and squeeze out as much liquid as possible.
Add the cauliflower rice to a large baking dish, then layer the fresh tomatoes on top. Add half of the tomato cream sauce, then layer the squash on top of the sauce. Add the fish fillets then pour the remaining sauce over the dish.
Bake for 20 minutes, until the fish is cooked and the squash is tender.
Garnish with fresh basil and serve.
Nutrition Information:
Yield:
4
Serving Size:
1
Amount Per Serving:
Calories:

456
Total Fat:

12g
Saturated Fat:

9g
Trans Fat:

0g
Unsaturated Fat:

2g
Cholesterol:

186mg
Sodium:

1211mg
Carbohydrates:

36g
Fiber:

12g
Sugar:

16g
Protein:

56g
Please note that the nutrition information above isn't always 100% accurate.
Since 2010, Kym Campbell has used evidence-based diet and lifestyle interventions to manage her PCOS. After getting her symptoms under control and falling pregnant naturally, Kym now advocates for dietary change as part of any PCOS treatment plan. Combining rigorous science and clinical advice with a pragmatic approach to habit change, Kym is on a mission to show other women how to take back control of their health and fertility. Read more about Kym and her team here.

Quick Disclosure: Some of the links on this page may be affiliate links. This means that when you use them to purchase something, it won't cost you more but I may get paid a commission for referring you. In order to avoid any prejudice, I only recommend products that I personally use or would have recommended anyways.