This post was updated on March 5th, 2023

During my free 30-Day PCOS Diet Challenge I share recipes and meal plans to cover your three main meals. This is because your main meals are the cornerstones of a PCOS-friendly diet, but it's pretty easy to argue that a few more "fun" recipes are just as essential. We're supposed to be adapting to a long-term lifestyle after all, and not just participating in a quick-fix diet fad.
Well, this new Berry Delight recipe definitely fits in the fun camp. Unlike a lot of your typical desserts, this recipe is actually fairly nutrient-dense. And while each serving contains about 2 tsp of glucose-based sweetener (which makes it taste nice and sweet), when served with whipped coconut cream (which is high in fat), the glycemic load will be much better than similar, sugary alternatives.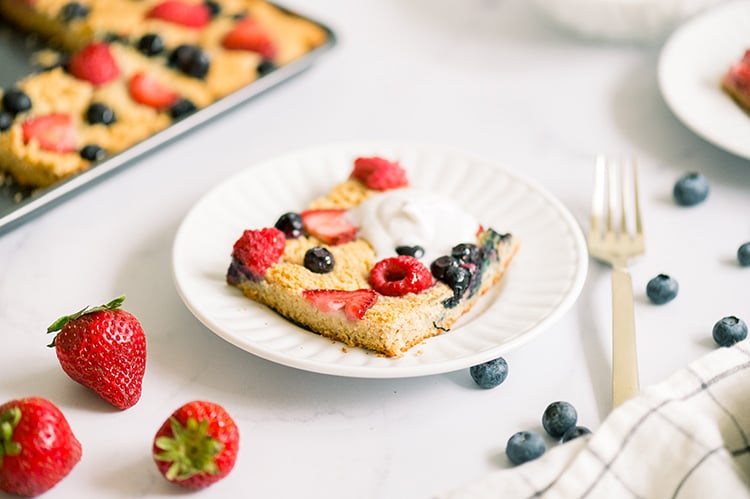 Here's everything you'll need to make this Berry Delight PCOS dessert:
Eggs
Almond flour
Tapioca flour
Coconut flour
Baking soda
Salt
Almond milk
Rice malt syrup
Coconut oil
Apple cider vinegar
Vanilla extract
Fresh berries
Keep in mind that consuming something like this earlier in the day, and immediately after a good, hearty, PCOS-friendly main-meal will also help to control your blood glucose levels.
Of course, if you have insulin resistance, you'll want to be cautious with any dessert-like recipe, but you've also gotta live right?
Trust your good judgment, and I hope you enjoy this new recipe!
xo Kym
P.S. If you are struggling to make the switch to a PCOS diet, I run a free 30-Day PCOS Diet Challenge every quarter which is the perfect way to really kickstart your health transformation. This live event includes weekly meal plans, recipes, shopping lists, and video lessons, all within a supportive community environment. However, if this recipe has inspired you and you want to get started right away, then I recommend downloading my free 3-Day PCOS Diet Meal Plan as well. It's a 15-page PDF ebook that contains some of my most popular PCOS recipes, a shopping list ready to go, and some additional information about how to use food to heal your PCOS.
Try this PCOS dessert recipe to curb those sweet-tooth cravings!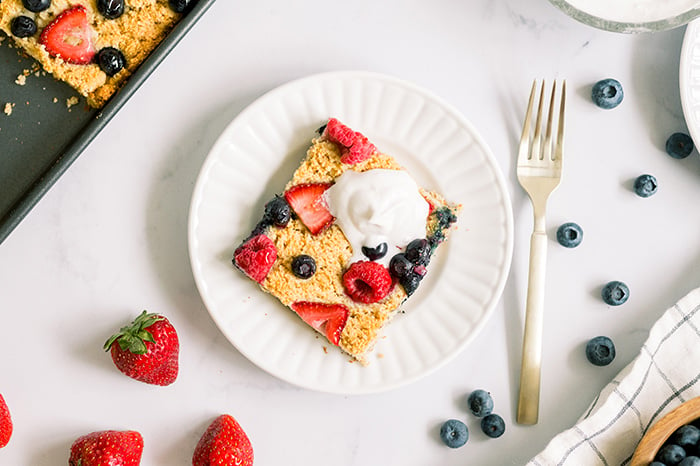 Yield:

12 SERVINGS
Berry Delight Slice (PCOS-Friendly)
Keep in mind that consuming something like this earlier in the day, and immediately after a good, hearty, PCOS-friendly main-meal will also help to control your blood glucose levels.
Ingredients
Protein
2 Eggs (room temperature)
Pantry
2 cup Almond flour
2/3 cup Tapioca flour
1/3 cup Coconut flour
1 tsp Baking soda
1/2 tsp Salt
1/4 cup Almond milk
1/2 cup Rice malt syrup (or light corn syrup)
1/4 cup Coconut oil
1/2 tbsp Apple cider vinegar
1 tsp Vanilla extract
Fruit
Instructions
Preheat oven to 350°F (175°C), and grease a sheet pan. A 9 x 13" sheet pan (or 35 x 25 cm baking tray) is ideal for a batch of 12 servings.
In a large bowl, combine almond flour, tapioca flour, coconut flour, baking soda, and salt.
In a separate bowl, whisk together the eggs, almond milk, rice malt syrup, coconut oil, apple cider vinegar, and vanilla extract.
Pour the wet ingredients into the bowl of dry ingredients and mix well.
Spread the batter into the greased sheet pan, and use a spatula to smooth it out evenly.
Sprinkle the berries on top of the batter, then bake for 30-35 minutes, until the cake is golden.
Allow to cool, then slice and enjoy with a little whipped coconut cream or coconut yogurt.
Nutrition Information:
Yield:
12
Serving Size:
1
Amount Per Serving:
Calories:

228
Total Fat:

15g
Saturated Fat:

5g
Trans Fat:

0g
Unsaturated Fat:

9g
Cholesterol:

31mg
Sodium:

217mg
Carbohydrates:

18g
Fiber:

4g
Sugar:

4g
Protein:

6g
Please note that the nutrition information above isn't always 100% accurate.
Since 2010, Kym Campbell has used evidence-based diet and lifestyle interventions to manage her PCOS. After getting her symptoms under control and falling pregnant naturally, Kym now advocates for dietary change as part of any PCOS treatment plan. Combining rigorous science and clinical advice with a pragmatic approach to habit change, Kym is on a mission to show other women how to take back control of their health and fertility. Read more about Kym and her team here.

Quick Disclosure: Some of the links on this page may be affiliate links. This means that when you use them to purchase something, it won't cost you more but I may get paid a commission for referring you. In order to avoid any prejudice, I only recommend products that I personally use or would have recommended anyways.