Just like diesel mixed with fertilizer, anyone who has done my free 30-Day PCOS Diet Challenge knows that sugar and PCOS are an explosive combination. But with the right knowledge and a few good PCOS-friendly dessert recipes, there is a way to safely handle this hazardous situation so you can continue to enjoy dessert.
The following brownie recipe, which is a recipe out of my Beat PCOS Dessert Cookbook, is an example to show you exactly what I mean.
If you've been holding yourself back from brownies as part of your recovery from PCOS, then you're definitely not the only one. While I would normally say that this is a smart thing to do, with this PCOS diet recipe you no longer need to restrain yourself entirely as choosing the right ingredients can make all the difference.
What Makes These Brownies PCOS-Friendly?
They are almost entirely fructose-free. I achieve this by using rice malt syrup rather than "natural" sugars like maple syrup or agave nectar, which contain large amounts of super harmful fructose.
They are totally gluten and dairy-free. This means they don't make your PCOS worse by exacerbating the chronic low-grade inflammation that characterizes this disorder. The main ingredient is sweet potato, which is hard to imagine tasting so good until you've tried it.
You'd never know you were eating a vegetable!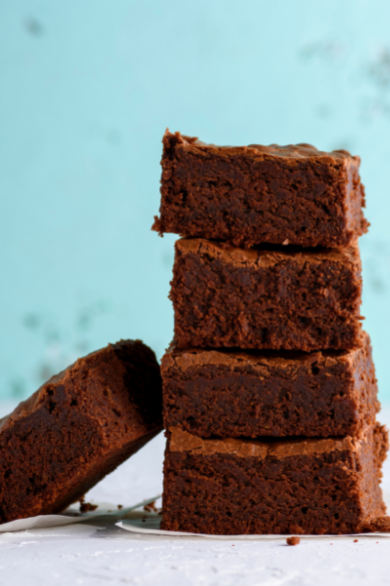 They include additional healthy ingredients that have known health benefits for women with PCOS. Coconut oil has been shown to aid in weight loss, particularly from around the waist, hips and organs (Mumme and Stonehouse 20151) while Ceylon cinnamon is known to aid with blood sugar regulation (Allen et al. 20132).
These are just some of the sugar hacks I use regularly when creating dessert recipes.
Here's everything you'll need to make these PCOS-Friendly Chocolate Brownies:
Eggs
Coconut oil
Rice malt syrup
Coconut flour
Cacao powder
Vanilla extract
Baking powder
Ground Ceylon cinnamon
Dark chocolate (85% cacao)
Sweet potato/yam
The proof though really is in the pudding, so give this recipe a try, happy baking!
xo Kym
P.S. If you are struggling to make the switch to a PCOS diet, I run a free 30-Day PCOS Diet Challenge every quarter which is the perfect way to really kickstart your health transformation. This live event includes weekly meal plans, recipes, shopping lists, and video lessons, all within a supportive community environment. However, if this recipe has inspired you and you want to get started right away, then I recommend downloading my free 3-Day PCOS Diet Meal Plan as well. It's a 15-page PDF ebook that contains some of my most popular PCOS recipes, a shopping list ready to go, and some additional information about how to use food to heal your PCOS.
Treat yourself to this easy PCOS dessert recipe!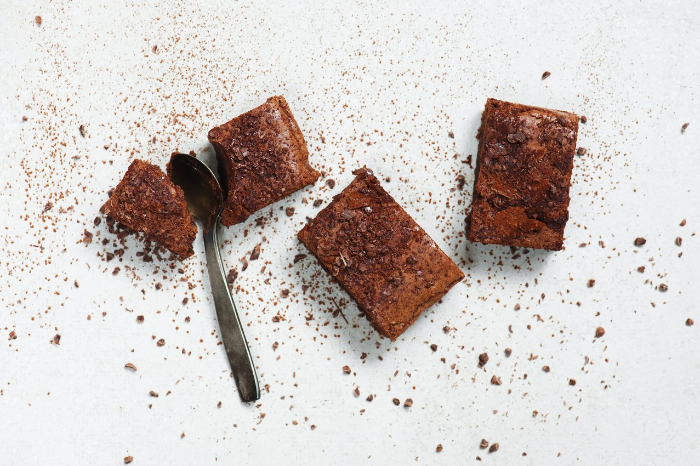 Yield:

16 SERVINGS
Slow-Cooked Brownies (PCOS-Friendly)
Cook Time:
2 hours
30 minutes
This recipe is pretty fool-proof so it's perfect for people that are less confident cooks. Given the ingredients used, no matter what you do here you can be sure to end up with something indulgent and delicious at the end.
Ingredients
Protein
Pantry
1/4 cup Coconut oil
1/3 cup Rice malt syrup
1/4 cup Coconut flour
2 tbsp Cacao powder
1/2 tsp Vanilla extract
1/4 tsp Baking powder
1/4 tsp Ground Ceylon cinnamon
1.8 oz Dark chocolate (85% cacao) (chopped)
Vegetables
7.1 oz Sweet potato/yam (cooked, skin removed, and pureed)
Instructions
Grease the inside of your slow cooker and line with baking paper so it reaches about halfway up the sides.
Combine all the dry ingredients in a bowl.
In a separate bowl, whisk together the eggs, coconut oil, rice malt syrup and sweet potato puree.
Stir the dry ingredients into the wet ingredients and mix well.
Pour into the slow cooker and spread it out evenly.
Cook on low for 2 hours or high for 1.
Remove lid and cook for a further 30 minutes or until a skewer poked into the center comes out clean.
Nutrition Information:
Yield:
16
Serving Size:
1
Amount Per Serving:
Calories:

104
Total Fat:

6g
Saturated Fat:

4g
Trans Fat:

0g
Unsaturated Fat:

1g
Cholesterol:

35mg
Sodium:

29mg
Carbohydrates:

11g
Fiber:

1g
Sugar:

4g
Protein:

2g
Please note that the nutrition information above isn't always 100% accurate.
Combining rigorous science and clinical advice with a pragmatic approach to habit change, Kym is on a mission to show women with PCOS how to take back control of their health and fertility. Read more about Kym and her team here.

Quick Disclosure: Some of the links on this page may be affiliate links. This means that when you use them to purchase something, it won't cost you more but I may get paid a commission for referring you. In order to avoid any prejudice, I only recommend products that I personally use or would have recommended anyways.
References
1Mumme, Karen; Stonehouse, Welma. Effects of Medium-Chain Triglycerides on Weight Loss and Body Composition: A Meta-Analysis of Randomized Controlled Trials. JOURNAL OF THE ACADEMY OF NUTRITION AND DIETETICS, 2015.
2Allen, Robert W.; Schwartzman, Emmanuelle; Baker, William L.; et al. Cinnamon Use in Type 2 Diabetes: An Updated Systematic Review and Meta-Analysis. ANNALS OF FAMILY MEDICINE, 2013.
Combining rigorous science and clinical advice with a pragmatic approach to habit change, Kym is on a mission to show women with PCOS how to take back control of their health and fertility. Read more about Kym and her team here.