This post was updated on November 17th, 2021

One of the most common questions I hear from participants in my free 30-Day PCOS Diet Challenge is, "what's the deal with oatmeal?" I get it. Oatmeal is a pretty dependable staple, and provided you're using steel cut oats, it's gluten-free and nutrient-dense. So, homemade (rather than pre-processed) oatmeal is not the worst thing you could eat for breakfast, but this recipe will serve you better.
Rather than providing a predominantly carbohydrate-based meal that's hard on your blood sugar levels, this PCOS-friendly alternative is higher in healthy fats and protein. The macronutrient profile will sustain you for longer, while the whole fruit and cinnamon still give you that comforting warmth and sweetness.
Here's everything you'll need to make this PCOS-Friendly Oatmeal:
Almond milk
Almond meal
Cashew nuts
Shredded Coconut
Flaxseed/Linseed meal
Ground Ceylon cinnamon
Walnuts
Ghee
Banana
Fresh berries
Salt
This breakfast still isn't as good as having meat and vegetables, but if you're feeling the need for an oatmeal-like experience then this recipe should see you right.
To save a little time, make large batches of the dry ingredients for this recipe and store until required.
xo Kym
P.S. If you are struggling to make the switch to a PCOS diet, I run a free 30-Day PCOS Diet Challenge every quarter which is the perfect way to really kickstart your health transformation. This live event includes weekly meal plans, recipes, shopping lists, and video lessons, all within a supportive community environment. However, if this recipe has inspired you and you want to get started right away, then I recommend downloading my free 3-Day PCOS Diet Meal Plan as well. It's a 15-page PDF ebook that contains some of my most popular PCOS recipes, a shopping list ready to go, and some additional information about how to use food to heal your PCOS.
While it's not your traditional oatmeal, this warm PCOS breakfast recipe will surely hit the spot.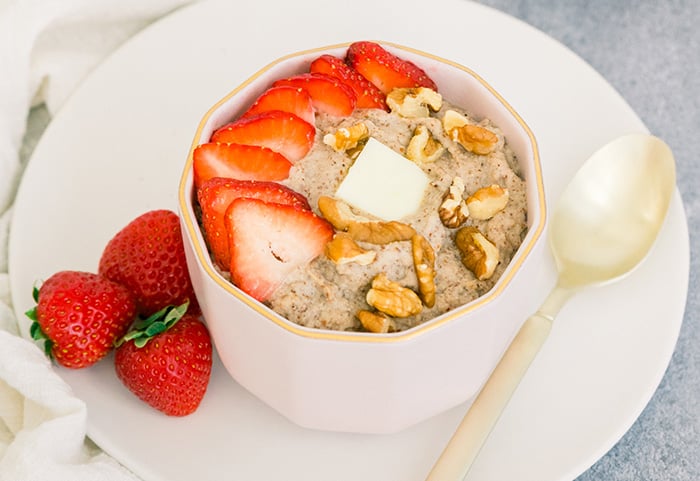 Yield:

1 SERVING
PCOS-Friendly Oatmeal
Rather than providing a predominantly carbohydrate-based meal that's hard on your blood sugar levels, this PCOS-friendly alternative is higher in healthy fats and protein.
Ingredients
Pantry
1/2 cup Almond milk
1/4 cup Almond meal
1/4 cup Cashew nuts
1/4 cup Shredded coconut
1 tbsp Flaxseed/Linseed meal
1 tsp Ground Ceylon cinnamon
1/2 tsp Salt
1 tbsp Walnuts (crushed)
1 tbsp Ghee
Fruit
1 Banana
1 tbsp Fresh berries (or frozen)
Instructions
Place almond milk, almond meal, cashews, coconut, flaxseed meal, cinnamon, salt, and banana into a blender and process on high for 10-15 seconds. The mixture should be a bit lumpy, but well combined.
Heat in the microwave or on the stovetop and serve with ghee, a few berries and some crushed walnuts.
Nutrition Information:
Yield:
1
Serving Size:
1
Amount Per Serving:
Calories:

855
Total Fat:

62g
Saturated Fat:

19g
Trans Fat:

0g
Unsaturated Fat:

41g
Cholesterol:

33mg
Sodium:

1455mg
Carbohydrates:

69g
Fiber:

17g
Sugar:

30g
Protein:

18g
Please note that the nutrition information above isn't always 100% accurate.
Since 2010, Kym Campbell has used evidence-based diet and lifestyle interventions to manage her PCOS. After getting her symptoms under control and falling pregnant naturally, Kym now advocates for dietary change as part of any PCOS treatment plan. Combining rigorous science and clinical advice with a pragmatic approach to habit change, Kym is on a mission to show other women how to take back control of their health and fertility. Read more about Kym and her team here.

Quick Disclosure: Some of the links on this page may be affiliate links. This means that when you use them to purchase something, it won't cost you more but I may get paid a commission for referring you. In order to avoid any prejudice, I only recommend products that I personally use or would have recommended anyways.